Related Pages
Fife Free Press Article - June
Spotlight on Staff Feature
We hope you enjoy finding out a little more about our inspiring staff here at Balwearie! This issue, we would like to introduce two of our Design and Technology teachers who have been contributing to the wider school in capturing our new school vision along with our revamped website at balweariehigh.co.uk
Miss Dick - Teacher of Design and Technology
I always worked with young people throughout my time at university which I loved. When I worked as a Product Designer I really enjoyed the aspect of training new colleagues within the business, this helped nudge me in the direction of teaching, and so far I have not looked back. I have met some great individuals and worked with some truly talented young people, who make the travel over from Edinburgh each day worthwhile! I was approached generate/drive forward new visions, values and aims for Balwearie. This is a project which I have been very passionate about, values are a very powerful concept not only in schools but in the world of work. I have great belief that with the right vision, values and aims for Balwearie, we can help our young people be the best they can possibly be in all that they do! The thing I most love most about teaching is inspiring others to pursue careers within the creative industries. Also the instant gratification of seeing a young person progress!
Miss Dick's quick-fire questions:
What is your favourite film? Trainspotting
If you could live anywhere in the world, where would it be? It would have to be a campervan! So I could live anywhere I fancied!
What is your favourite music genre? Where do I start!?
What is your favourite sport? Football
Are you a morning or a night person? Night
What is your best childhood memory? Seeing Hearts win the Scottish Cup in 1998, parading down Princess Street!
If you could have a superpower, what would it be? Time travel.
If you weren't a teacher…you would be a…. designer.
Best piece of advice you've ever been given... What's for you won't go by you!
Mr Giove – Teacher of Design and Technology
I studied as a Product Designer and did a lot of work with schools and young people. This was where my interest in education really started. Before I applied for the PGDE at Edinburgh Uni, I spent a year volunteering at Lochgelly High School where my mind was quickly made up! Before moving to Balwearie two years ago, I spent 5 years in the Craft, Design & Technology department at Beath High School where I "learned my trade" but now feel like I am really improving as a teacher at Balwearie. I really enjoy working at Balwearie and I'm glad I made the sideways move here two years ago from my last school. The pupils are fun to work with, creative and make my day-to-day work very enjoyable.
I developed the new school website to help enhance and improve our communication to parents, carers, pupils and the wider community. The website was an important project and a huge learning experience for me. It launched in February this year and has proved to be a success so far.
The thing I most love about teaching? Every day is completely different!
Mr Giove's quick-fire questions:
What is your favourite film? The Godfather (Parts I and II)
If you could live anywhere in the world, where would it be? Italy
What is your favourite music genre? Rock
What is your favourite sport? Football
Are you a morning or a night person? Definitely a night person!
What is your best childhood memory? Every summer holiday visiting family in Milan.
If you could have a superpower, what would it be? Immortality.
If you weren't a teacher…you would be a…. Product Designer!
Best piece of advice you've ever been given... was from a friend who is now a Depute Head: "The lesson is the easy bit. It's what happens before and after the lesson that really matters".
Career Ready Graduation
We were proud to see six S6 pupils from Balwearie, Gus Davidson, Patrik James, Lauren Kilpatrick, Dominica Korejwo, Harriet Lamden and Shannon White, graduate from the Career Ready programme this year. For the last two years the pupils have been working closely with local industries, gaining valuable skills and insights into the world of work from their business mentors and getting direct experience via a summer internship with the supporting employer. Four of our pupils were able to attend the graduation ceremony on 18th April at Perth's Concert Hall, an occasion which celebrated their ambition and hard work and where they received a certificate marking their achievement. As they come to the end of their six years at school, we are confident the programme has helped them prepare for the future and given them a richer understanding of the workplace and the skills and qualities needed to thrive.
Maths department - 'Pink Kangaroo' maths challenge paper
Iain and Gavin McWhinnie – our S4 twins - were invited to sit the 'Pink Kangaroo' maths challenge paper due to their amazing performance in the Intermediate Maths Challenge earlier in the year. Only 6000/7000 of the highest achieving pupils are invited to sit this test each year. In addition, Iain managed to score in the top 25% and has been awarded a merit certificate. Well done boys!
Biology department - Nuffield Research Project
Alex Denholm S5, has secured a Nuffield Research Project for the Summer of 2018. Nuffield Research Placements provide over 1,000 students each year with the opportunity to work alongside professional scientists, technologists, engineers and mathematicians. The area Alex has chosen to work in is Environmental Biology and Evolutionary Ecology at Abertay University. Alex will get hands on experience working on a live research project, meeting fellow students with the opportunity to develop new skills during the process. The Biology staff would like to send Alex best wishes for her placement and look forward to hearing about her experience next term. For more information on the Nuffield Research Projects please visit: https://www.nuffieldresearchplacements.org/
Music department - Pipe Band Drummers
Shona Briers, Lucy Gardiner and Ellie Gibson S3 Pipe Band Drumming Pupils took part in their very first outdoor competition at the Royal Scottish Pipe Band Association, British Championships in Paisley on Saturday 19th May. They assisted their band in achieving 4th place in the Novice Juvenile Grade. They will continue to compete in the outdoor competition circuit throughout the summer including at the local highland games and Major Championships. Good luck girls!
Owen Baxter, Amina Mushtaq, Abbie Storrar and Olivia Baird visited Creative Spaces last week at Dundee and Angus College. They were set an Architectural Brief and competed against schools from all over Fife, Perthshire and Dundee. They produced an outstanding building in a 4 hour time period! Their design was innovative and well-constructed all through great teamwork! Unfortunately no wins for us, but everyone had a great day!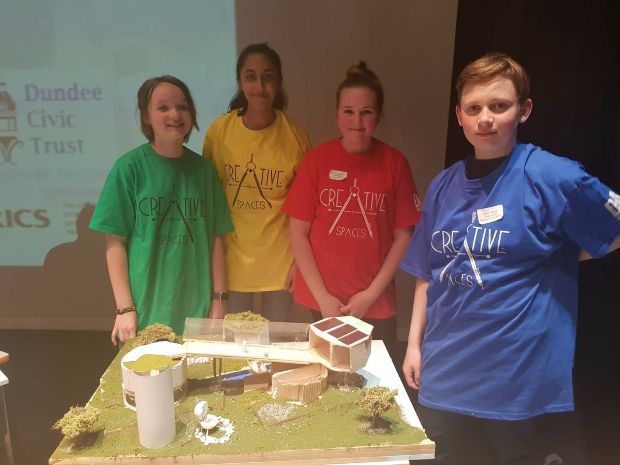 Learner Participation Events – Career Education Standard
Career education is vitally important in supporting our young people develop the skills required for learning, life and work as well as supporting them to progress into positive and sustained post-school destinations. In order to seek the views of our young people on the topic of career education, Balwearie High School are hosting three Learner Participation events where our young people will engage in tasks and activities with a career education focus. The first Learner Participation event was held on Thursday 24th May with the S1 year group who were really engaged in the tasks and activities. Upcoming events, for S2 and S3, take place on Thursday 31st May. Balwearie High School values the views of our young people and the Learner Participation events are another example of how we appreciate and recognise the voice of our pupils.
Balwearie Parent Council – come along!
The Parent Council are planning an evening networking event on the 5th September 2018 – it is hoped that we can bring together parents/carers from across the Kirkcaldy area to work together to increase parental engagement. The event will be supported by Connect Scotland – more to follow.
DAS NEWS
Disability Sport Fife award winners:
At the recent Disability Sport Fife awards evening one of our members of staff and one of our pupils were honoured with an award and we share their joy at being recognised. Gabby Doig, our S5/6 teacher was presented with an outstanding contribution to sport thanks to her coaching input. Alex Evans, one of our senior pupils was a joint winner of the Senior Footballer of the Year award. Well done Alex and Gabby! Great to see your efforts being recognised.
DAS Has Talent
There is a wealth of talent in DAS and we all enjoyed celebrating that talent on Friday 4th May when we held our annual DAS Has Talent showcase afternoon. Pupils amazed us with a variety of performances from a Mr Bean sketch to footballing keepy-uppy skills to solo and duet singers belting out rock anthems or crooning souful renditions – all preformed with passion and energy. Thank you for sharing your talent with us – every act was a winner!
Move over Andy Murray! Fife Junior Tennis Academy for pupils with additional support needs
The success of the 2017 Fife Performance Tennis Academy has prompted Disability Sport Fife to join forces for the third year with Dunfermline Tennis Club. Through GOGA in Fife with support from Spirit of 2012, the initiative will once again finish up with a Tennis Festival. Balwearie DAS has been fortunate enough to have tennis coaches in school for our S2 class group for a number of weeks leading up to the tennis festival in June. Pupils are thoroughly enjoying the expertise and have greatly improved their tennis skills. First step - Tennis Festival – next - Wimbledon here we come!
DSF Cross Country Championships 2018
Runners from Balwearie DAS swept the boards at the DSF Cross Country Championships held at Beveridge Park. We had a tremendous haul of medals and the team was thrilled to be presented with the Russell Hogg Memorial Trophy as Fife Champions 2018. Very well done Balwearie DAS. This is the second year in a row where we have triumphed – last year we shared the honours with Levenmouth DAS. This year however due to our outstanding team we were outright and very worthy winners.
S1 pupils 2018-19
We welcomed our new S1 group to Balwearie DAS for the first time all together where they had to chance to get to know each other and to meet the staff who will be working with them in August. It was a very positive visit and we already feel as though they are part of our community. We look forward to them coming again for their two day visit in June.
Climate change – learning outside the classroom
S2/3 had a fabulous day at Vane Farm on Thursday. They were learning about the wildlife around the reserve and finding out how it was suited to the local environment and the temperate climate. In the morning the class listened to a talk about the local bird life and then set out around the trails with binoculars to see what they could spot. They were very lucky to see a huge variety of local birds and some that were visiting from other countries. The afternoon session was pond dipping. The class had a great time fishing in a specially constructed pond and using magnifiers and water trays to investigate the pond life. A beautiful sunny day and a fantastic guide made it a very memorable trip.
Celebrating Diversity
On Monday the S2/3 and S3 classes went to see The Greatest Showman at the Adam Smith Theatre. The film was a celebration of diversity and linked directly to our RME topic which is Disability and Barriers. It was a very thought provoking film and really made the pupils think about equality and fairness in our society.
Thank you to the staff at the Adam Smith theatre for welcoming us and for sharing their praise of our pupils on the morning itself.
RSPB coffee morning
S5/6 worked their socks off to organise a very successful fundraising coffee morning on behalf of RSPB. We were delighted to welcome friends; families; carers and colleagues who came along on the morning to support the pupils. In addition to raising an astounding amount of money (£400 and counting!) the sense of community and support was very evident and most encouraging to all of us here at Balwearie DAS. Special items on sale were the beautiful drawings of birds drawn by one of the pupils, Andrea Adamson who has a very special affinity to birds and a tremendous knowledge of every aspect of birdlife. Thank you to Morrisons and Myrtle Coffee for their very generous contribution towards the morning – support is very much appreciated. Thank you too to those who donated baking and tombola gifts including Cupcake Coffee Box.
SPORTING NEWS
Kilgraston Schools Equestrian competition
Hannah Cordiner S1 took 7th place in both her dressage and jumping, from large classes of 40+ mostly from Dollar, Kilgraston and Strathallan. She's delighted with how it went, and hopes to compete again for the school later in the year when the next event takes place. Well done Hannah!
Sports Leaders in Tennis
On Thursday 3rd May four S1 and S2 pupils Callum Hand, Murray Oliver, Claire Scotland and Findlay Roberts attended a Tennis Leaders course at Kirkcaldy High School run by Gary Whitton of Kirkcaldy Lawn Tennis Club and Active Schools. Tennis Leaders is an exciting programme which can help young people get the first step on the career ladder. All were successful in completing the course and have since supported a tennis programme with the club in the schools' DAS department and will be linking with our local cluster primary schools to run a P3/4 Mini Wimbledon festival in June. We look forward to seeing more tennis in our school and our cluster delivered by our fabulous tennis leaders.
Football – Celtic Signing – Brody Paterson
The school is delighted and proud that S5 pupil, Brody Paterson, has recently been awarded a full time professional contract with Celtic Football Club. Throughout his 5th year Brody skilfully balanced the study of Highers with a considerable commitment to football training and, thanks to his mature and determined approach, did so calmly and with a smile on his face. We wish him the very best of luck at Celtic and look forward to hearing about the sporting career of this friendly and talented young man.
School Sports Day Heats
Qualifying track and field sports heats are underway for all year groups in preparation for the Annual Sports Day on 19th June, when the finals will take place. Primary schools will also be participating on the day in the Annual Relay and Potted Sports competitions. In addition, team selections are being made for our athletes as they prepare to compete in the Fife Schools Multi-Event on 29 May and the Fife Track and Field Championships on 12 June, both at Pitreavie Stadium, Dunfermline. The school will also be represented in the Scottish Schools Track and Field Championships in June. Good luck to all of our talented athletes!
Schools Tennis - Boys
Blessed with a beautiful sunny day at the Kirkcaldy Tennis Club, the Balwearie boys' team hosted Selkirk High School in the LTA Team Tennis Scottish Schools Competition. The team, consisting of Sam Whitton S2, Murray Oliver S1, Lewis Thow and Callum Hand, both S3, won the match convincingly 8-4 overall. The next match up is against Dollar Academy.
Schools Tennis - Girls
The girl's team was faced with very tough competition as they played in Edinburgh against Strathallan, Kilgraston, Dollar Academy and St George's School, the host school. Whilst the girls lost all matches overall, their level of determination and resilience throughout the four matches was most commendable, as they continued to battle for every point against very strong opposition. The girl's team consisted of Claire Scotland, Anna Grieve and Eve Fraser, all S1, and Louise Rodgers S3. Well done to all players involved.
Fife Schools S1 Basketball Tournament
Well done to the Balwearie players for finishing a respectable fourth out of ten teams at the Fife Schools S1 Basketball Tournament. After winning two out of the initial three matches the squad went into the top group. In all three matches the scores were extremely close against more experienced opposition. Credit must be given to all the players for their positive attitude and fair play.
Squad - Callum Finnie, Finlay Knight, Ross Murphy, Callum Ness, Scott Sinclair
Sports Transition
On Friday 25th May our P7's moving into S1 after the summer break spent the morning at Balwearie participating in a number of sports sessions with the aim of making new friends. The whole day was organised and delivered by the S6 Sports Leader class. The day was a huge success with over 300 P7s participating in a range of sports including rugby, tennis, football, basketball, netball, rounders, frisbee, badminton, boxing fitness, dance, athletics and a range of other sports. The new students thoroughly enjoyed their first introduction to our school by our S6 pupils for whom this was their last official day at Balwearie.
Diary Dates
4th June 2018 – Holiday
5th June 2018 – In-service Day 5
6th June 2018 – New timetable commences
7th June 2018 - Awards Evening
13/14th June 2018 – P7 two day visit
19th June 2018 – Sports Day
29th June 2018 – End of Term