Related Pages
Fife Free Press December '18
Spotlight on Staff Feature
We hope you enjoy finding out a little more about our inspiring staff here at Balwearie! This issue, we would like to introduce two of our teachers who have been contributing to the wider school in shaping greater participation of young people in Health and Wellbeing and Mentors for Violence Prevention (MVP) at Balwearie
Mrs Farmer – Principal Teacher of Home Economics and Health and Wellbeing
The love of my subject and my passion for teaching people how to cook got me into teaching. After being a Home Economist in industry for many years working in London I returned to Scotland and started some adult education classes, teaching adults how to prepare and cook nutritious meals for their families gave me a huge amount of satisfaction and made me want to pass my skills, knowledge and experience onto young people too.
I have only been at Balwearie for two years, moving from Portobello in Edinburgh. The department that I run is very busy and demanding with lots of practical classes but it is very rewarding and our pupils seem to really enjoy the subject.
The best thing about teaching for me is the young people coming back and telling me what they have made or tried out at home. Being able to recreate dishes independently demonstrates learning and their enthusiasm is wonderful. Inspiring pupils to live healthier lives is also important and I hope I'm being a good role model.
Mrs Farmer's quick-fire questions:
What is your favourite film? Gone with the wind- It's an epic, glamorous, strong determined woman with an intermission as it's so long!
If you could live anywhere in the world, where would it be? Hmm probably Italy as it's so beautiful, steeped in history and immersed in seriously good food.
What is your favourite music genre? 'Old lady music' according to my classes! 80s pop is played a lot in my house.
What is your favourite sport? If I have to choose.... rugby, especially watching Scotland play.
Are you a morning or a night person? Morning person, after my real coffee though.
What is your best childhood memory? Cooking in the kitchen with my Grannie. Always busy, lots of chatting, old stories singing and a wee cake at the end.
If you could have a superpower, what would it be? I'd like to be able to stop time, pause the world for a while and allow myself and others some space, time to reflect and appreciate what we have.
If you weren't a teacher…you would be a…. a travel writer would be a fantastic job. Travelling the world, seeing amazing places and sampling all the delicious cuisines of the world.
Best piece of advice you've ever been given... Keep smiling it makes people wonder what you're up to!
Mrs Williams – Teacher of Religious, Moral and Philosophical Studies
Both my parents were teachers, prior to teaching myself I worked in Theatre in Education and on community education Theatre projects.
I have loved joining Balwearie it has brought many opportunities for me to develop the wellbeing & nurture elements of teaching that I am passionate about.
I believe that we can make a change our world & I want to inspire our pupils to have the confidence and drive to see injustice and challenge it. I also see school as a safe haven, I think that every pupil deserves a significant person - another human who listens to and supports them, their own cheerleader - I feel honoured to be that champion for some of our young people.
Mrs Williams' quick-fire questions:
What is your favourite film? Breakfast at Tiffany's I'm a romantic at heart.
If you could live anywhere in the world, where would it be? San Francisco - I've done it once, I'll do it again.
What is your favourite music genre? Old Skool Motown
What is your favourite sport? Swimming.
Are you a morning or a night person? Sadly both, I want it all! Life's too short to sleep.
What is your best childhood memory? 6 week camping road trips to France during summer holidays (benefits of teaching parents).
If you could have a superpower, what would it be? To make everyone kinder.
If you weren't a teacher…you would be a…. International superstar who has infinite amount of time, laughter & money to share so that no-one is lonely, hungry.
Best piece of advice you've ever been given... Love yourself first, then you can love others.
Balwearie Remembers - 1918-2018
As part of our ongoing 1918 Poppy Pledge pupils at Balwearie High School have been engaging in various activities to commemorate the Centenary year of the end of the First World War and the sacrifices made my service men, women and civilians in times of conflict and war since. Pupils involved in the BRAG Rural Skills group met with Mr McNeil and planted a Remembrance Tree & Plaque within the school grounds in an effort to encourage future generations to remember. School Chaplains James Reid and Alexander Ritchie led Remembrance services to each year group during which senior History pupils Abbie Taylor, Robbie Hill and Cara Thomson led commemorative readings, poetry and scripture. Piper Ian Scott poignantly set the tone for the two minute silence with his rendition of 'Highland Cathedral'. Fraser Matheson, Lucy Penman and Catherine Finnie spoke about the importance of remembering 100 years on. All pupils engaged with the service silently and respectfully and were keen to pay tribute to the fallen. Fife wide events also supported our efforts: on Friday, 9th November, Lia McGibbon, Rachel Baird and Mr Currie attended a moving memorial service at Dunfermline Abbey followed by a Civic Reception. On Remembrance Sunday, senior pupils Lennon Donaldson, Elidh Hynie, Amy Biggar, Samantha McGlashan and again Rachel Baird joined Mr McNeil in the local commemorative march before observing the Kirkcaldy Remembrance Service. The pupils then joined fellow pupils, teachers and members of the public from the Kirkcaldy area to participate in the service. Amy, Eilidh and Samantha participated in the service by reflecting on their school trip to the Battlefields of France and Belgium and the experiences that moved them. Following our non-uniform day in Term 1 and Poppy Sales pupils have raised over £1000 thus far– our S5 One World Poppy group are currently collaborating to plan various fundraising events throughout Term 2 &3 to continue to add to this total to support our Poppy Scotland mission. Look out for our fundraising advertisement in school and online and please support our cause! We will remember!!
Auschwitz – an article by Andrew Morrison and Catherine Finnie following their visit
A 4.30am start signalled what was going to be an incredibly moving and unnerving experience. The flight left Edinburgh at roughly 6, with the plane arriving in Krakow around 8.30. We were then quickly rushed onto a bus as we left for Auschwitz – a journey many would make, from all over Europe, but few would return from.
The first stop on the agenda was Auschwitz I, or the 'work camp'. The feeling was very indescribable – it was almost as if every possible emotion was acting at once. Surrounded by electric barbed wire fences, we entered under the famous gates proclaiming the words 'Arbeit Macht Frei', which translates to the slogan 'Work Will Free You'. This allowed me to begin piecing the jigsaw together in my mind, with the buildings putting images to my thoughts and studies. Passing by each building almost resulted in a change of emotions as each individual bricked shelter told its own story. We then entered one of these buildings, no different to the others. However, I admit that I came out of that building a different person to what I was before I entered. This building contained several items, most frighteningly drawings by children who had been transferred to the camp. The images displayed showed harrowing images of people hanging and German soldiers with guns shooting at prisoners. I just couldn't bring myself to imagine the horrific acts that these children experienced on what could've potentially been a daily basis. However, I was not expecting what I noticed as we travelled down the stairs – The Book of Names. The book, several metres long, showcased the names of all those who died due to the Holocaust. It was the sheer size which stunned me into silence for minutes on end – how could someone cause harm to so many? In that moment, I was able to really picture and understand the sheer scale and horror the Holocaust had caused. The next building was almost as equally traumatising, if not, more. This building allowed me to put people to the statistics and images to the dead – these people were all human, each with their own story to tell – something that I found I didn't really understand before I entered this monstrous structure. As we entered the first room, we were surrounded by images of faces of prisoners, clearly distressed, some ill, bruised and battered. It also displayed the age of those facing us, as well as the date of arrival and death – some lasted days – others lasted to the final few weeks before liberation. The rooms that followed were equally disturbing, containing a display of hair, suitcases, shoes and brushes, all of which recovered by the Soviets following the liberation of the camp in 1945. We then left the building, travelling down this gravel path towards one of the most horrific rooms I entered on this entire trip – the gas chamber. This was the final thing many would ever see – a blank, motionless, empty room with few slits in the ceiling where the gas would poured in from. Everything was silent, no one was speaking. However, one thing we knew is that we, unlike thousands of others, would exit the chamber. Many never did.
We were then rushed back on to the bus. Next stop – Auschwitz Birkenau. The death camp. The bus stopped around a minute away from the camp, with the party being greeted by the famous towering building, with the train lines running directly through the site. The group then entered the camp, with a similarly moving experience in store for us. We passed the barracks where the prisoners would sleep, which were in fact once used as a haven for cattle – and that's how the inmates were treated – like animals. We were told stories about prisoners being forced to stand outside in minus forty degree temperatures with nothing but pyjamas. I yet again questioned 'why'? How can someone do this to another human being? It's beyond imagination. However, somehow, I still hadn't witnessed the worst site I saw that day – the 'selection ramp'. This ramp covered over a small portion of the railway line and next to an old coal carrier, which still stands today, and was the death sentence for so many. Once the prisoners had been collected by soldiers, they were taken to a queue, which began next to this old wooden carriage. The soldiers at the head of the queue would then separate it into two lines – the line to the barracks or the line to the gas chambers – they chose life or death. And here I was, standing there, knowing I was safe. I couldn't even imagine how different I would have felt had I been standing in the exact same position 73 years ago. Next on the agenda was the memorial at the back of the camp to commemorate those who lost their life in the Holocaust. Next to this memorial stood the gas chambers which were now completely destroyed – the Nazi's tried to hide the fact that the Holocaust had actually taken place, so they attempted destroyed any evidence. We were then led into the branding room, which is where the inmates would be shaved bald, have all possessions taken off of them and branded with a number. This specific number would be how they were recognised – not even as a human, as merely a statistic. Together, we then began our ceremony, which included a speech from a Rabbi as well as some of the students who took part in the trip. An emotional end to what was an almost indescribable and moving day.
This trip has completely changed my perspective on what the Holocaust actually was. We were taught about it at school, and yes, I understood what happened, but it wasn't until I actually visited the site that's arguably most well-known for the atrocities that took place, did I fully understand that the people involved were real human beings. Before I visited Auschwitz, they were merely a statistic, with exception to some of the more famous inmates, for example, Anne Frank. However, this trip changed that. It allowed me to connect with these people, sympathise with them you could say. They were all people too, like me and you. But these people, each with their own story to tell and future to live, had all of their livelihood taken away from them. And for what? Their religion? Their sexuality? It's hard to imagine, but that actually happened, and is still happening to this day. Maybe not for the same reasons, but we haven't learned from the past. It's time for this to change before something of a similar calibre occurs. Or else history will yet again repeat itself.
Mentors in Violence Prevention (MVP) Programme
S6 Balwearie students have begun teaching S1 pupils through the MVP initiative. Mentors for Violence Prevention was pioneered by The Violence Reduction unit of Police Scotland, it is designed to teach pupils what unacceptable behaviour looks like, how to prevent it and where to go for help if one witnesses violent behaviour. We are very proud to be the 1st school in Fife to begin implementing this vital resource. We are sure it will have a positive impact and that pupils and staff are enjoying working together to create nurturing environment. Following completion of the teaching input s1 pupils will know who their mentor is and they can access their support in registration class and weekly drop in sessions staffed by senior pupils. This has been an excellent opportunity for our senior pupils to develop their leadership skills, leading by example and giving back their community.
Home Economics Department – The Rotary Young Chef Competition success continues!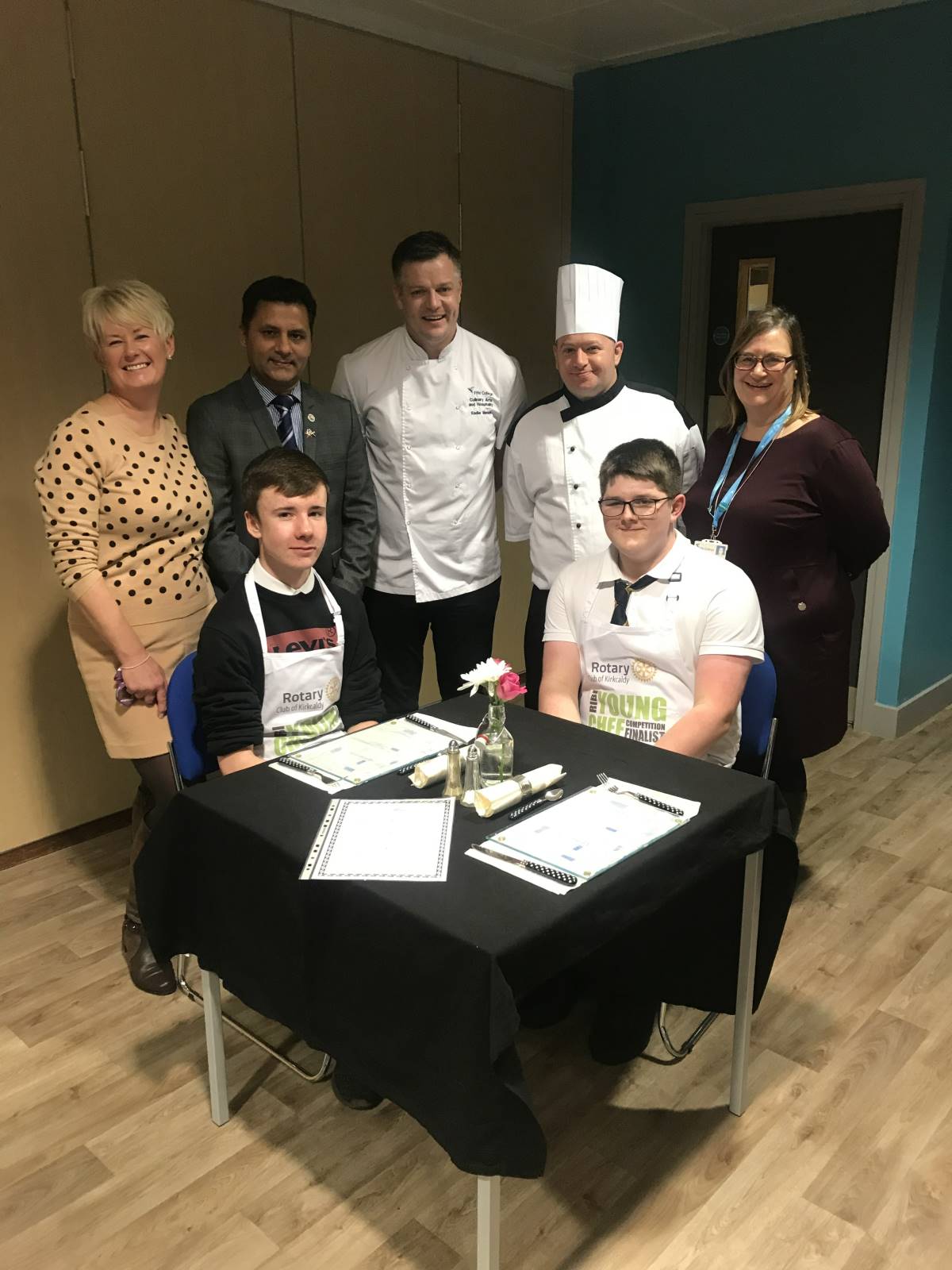 S4 pupil Mackenzie Graham and S3 pupil Elizabeth Fehr represented the school by competing in the Local round of the 2018 Rotary Young Chef Competition on Monday 26th of November. The competition for secondary school pupils involves preparing a healthy meal for two people, showing their ability to be creative without demanding expensive ingredients and following the principles of a healthy diet. Kirkcaldy HS and Viewforth HS were also represented in this round of the competition with the winner advancing to the Regional round in Dundee. The standard of food produced by all competitors was outstanding. All competitors received a personalised apron for participation and a certificate to celebrate achievement. The competition was judged by college lecturer and Chef Eadie Manson. Congratulations to Mackenzie Graham who was awarded joint winner of the competition with Jake Ramsay of KHS. Well done to all young people involved and good luck for the next round Mackenzie!
History Trip to Edinburgh – Scottish Wars of Independence Conference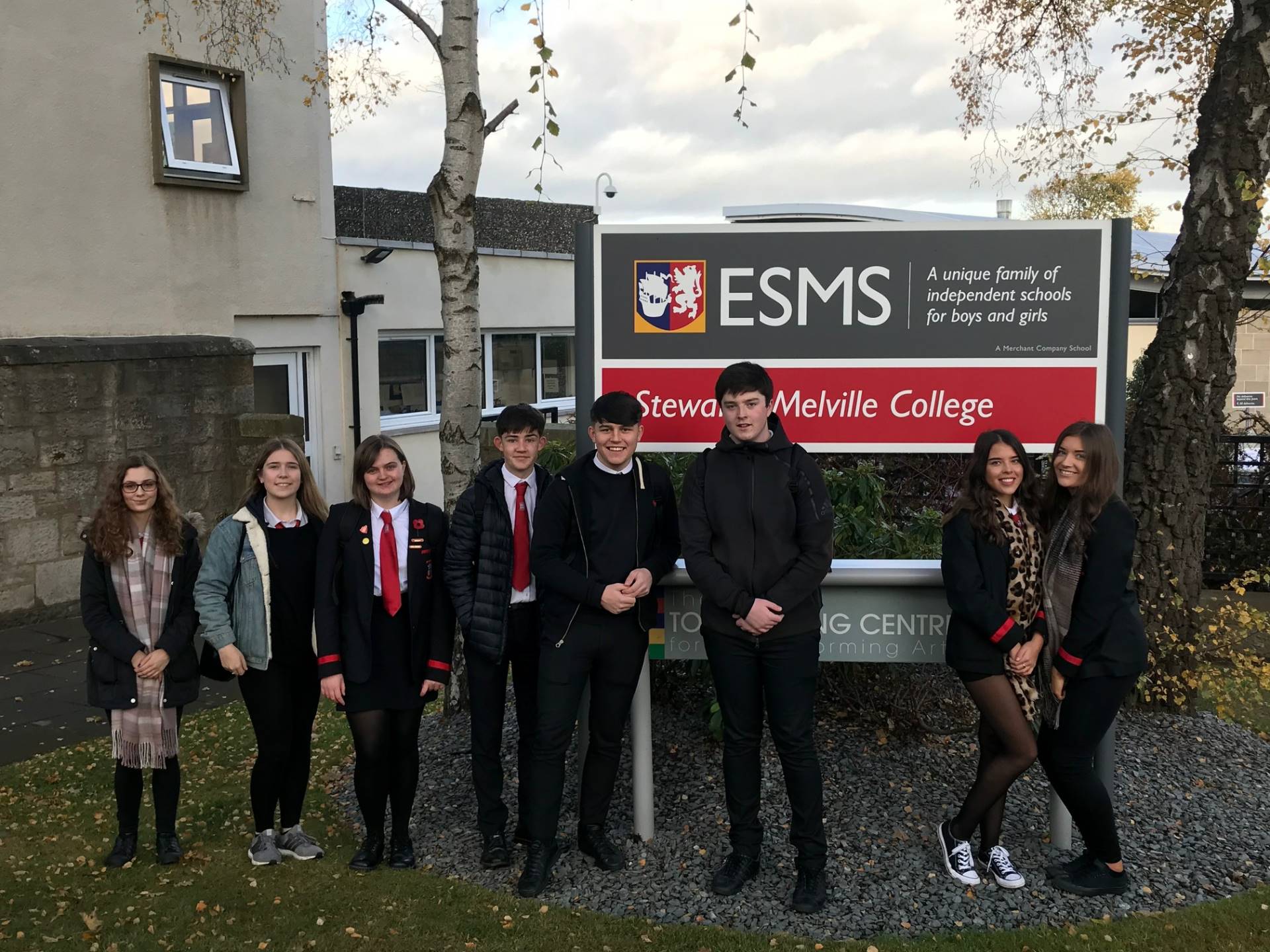 On the eighth of November our class travelled for an exciting and stimulating day out to a conference about the Scottish Wars of Independence hosted at Stewart's Melville College in Edinburgh. The programme featured three expert historian speakers Mr Bill Glennie, Dr Fiona Watson and Professor Matthew Strickland. The lecture covered three different aspects of the Scottish Wars of independence; Causes and the Great Cause, William Wallace and Military Strategy of Bruce. These topics coincide with our own advanced history course and so the day was very beneficial in helping us understand and visualise the context of this tumultuous and fascinating period of history. All of the speakers spoke in an engaging manner, bringing life to each respective area that they lectured on making for an entertaining experience for the audience members. The hospitality of Stewart Melville's was also on full display with students serving tea, coffee biscuits and orange juice served in champagne glasses. All in all, it was an excellent day out. Written by Shannon Lenachan.
Fife College Links for Expressive Arts
The Drama and Music Departments have strengthened our partnership links with Fife College through a workshop in Musical Theatre. Our S2 Musical Theatre Elective class and five S3 pupils enjoyed an 'all singing and dancing' experience alongside HNC & HND students from Fife College.
School Show – Summer 2019 – plans underway!
The new school show - Our House - has been launched with auditions in full swing. Rehearsals will start following the S4 prelims. Performance dates are 19th - 21st June 2019.
World Challenge 2020 - Swaziland & Mozambique
Young people have now signed up to this exciting project. If there are still interested S3 or S4 pupils who have still to take the plunge, the time is now! (Please speak to Mrs Slade if interested.)
The first big launch meeting for all involved will be on Tuesday 11th December from 4-6pm, with parents invited to come along from 6-7 to hear about progress.
Balwearie Parent Voice – get in touch!
Keep checking the website for information about the topics to be discussed at future meetings and to have your say about what you would like know more about. Next Meeting: Wednesday 27th February 2019 – more details on our website at http://www.balweariehigh.co.uk/Parents/Parent-Voice/ or you can email us directly at BalwearieHSParentVoice@fife.gov.uk with any queries, comments or actions related to parental involvement.
DAS NEWS Nov 2018
Duke of Edinburgh Taster
Thank you to Mrs Ferguson for offering DAS pupils the opportunity to explore our own Duke of Edinburgh venture this session in the form of a taster.
This has appealed to a group of senior pupils who are very enthusiastic to try it out. So far it is very promising! The group have already completed a volunteering session with Clear Fife growing project in Buckhaven and were a great help – this was a very positive experience and gave the youngsters food for thought in more ways than one!
Scottish Disability Sport Cross Country Series
On Tuseday 6th November Balwearie DAS took a team of 12 pupils to take part in series 1 of the SDS Cross Country East series at Peffermill Playing Fields in Edinburgh. The team included two S1 pupils who took part for the first time. The senior pupils set a good example and made sure they were properly warmed up and knew the route of the race. The athletes were competing for points which will be totalled at the end of the series of 4 races. The whole team put on brilliant performances and we had several year group winners. We can't wait for the second event of the series next week! Bring it on!
They shall not grow old…..
This term, D4 class in DAS have been learning about World War 1 in the centenary year of its ending. In particular, we have been finding out about the impact it had on our local community. We visited Kirkcaldy War Memorial and laid a poppy by the name of the Great Grandfather of one our DAS PSAs. On our return, we did some research on some of the other people named on the memorial. Our findings were fascinating and we discovered soldiers buried not just in France but also in Iraq, Egypt and Kinghorn. We also learned that not just the memorial but the Kirkcaldy Gallery and Gardens were donated to the town by John Nairn, the local linoleum factory owner whose only son was also killed in the War. We found several graves in Abbotshall Churchyard of soldiers who died near the end of the war, not from their injuries but from Spanish Influenza. We also made a trip to the new Museum in Dunfermline to see the Exhibition of WW1 uniforms and weapons. On our return, we stopped briefly outside East End Park to look at the recently laid memorial to David Hunter, a great Pars fan, who was awarded the Victoria Cross during the war, but also survived it and eventually died in 1965. At the start of our topic, we knew we would learn lots of interesting things about the Great War but were not sure exactly what. It has been a fascinating learning journey for us all and one that will be long remembered.
St Andrew's Cathedral Trip
DAS Rm 3 travelled to St Andrews to visit the Cathedral as part of their RME studies focusing on St Andrew. All pupils rose to the challenge of climbing the 160 steps to the top of St Rule's Tower where they enjoyed 33m high-fantastic views from the top. They were delighted to be awarded a certificate celebrating their achievement. Supporting staff were equally proud!!
On return to school the pupils watched a virtual tour of St Andrew's Cathedral to see what it used to look like as a comparison. They are looking forward to their next RME trip to see relics of St Andrew at St Mary's Cathedral in Edinburgh and to hear more about his life.
Follow your dreams!
DAS Room 3 had a fantastic day learning outside the classroom when they visited Edinburgh Zoo not only to see the animals but as part of the Into Film Festival. The class viewed an autism friendly showing of the film 'Rock Dog'. Pupils thoroughly enjoyed the film which had the message of never giving up and following your dreams despite any hurdles that get in the way!
After lunch there was the opportunity to enjoy the animals in the zoo. The group trekked to the African Plains exhibit to see some wonderful Grevy's zebras. A favourite, as always, was the monkey enclosures whose antics did not disappoint!
Tollcross Swimming Gala
A group of seven pupils from Balwearie DAS were selected to represent Fife in the SDS National Junior Swimming Championships at Tollcross Pool in Glasgow. All pupils swam superbly and made the finals for each of their events. A special mention for Brooke Turner-Walker, Calum Robertson and Zoe MacNulty who all received medals. Brooke is the 50m front crawl Scottish champion and Calum the 50m Back stroke Scottish champion. Zoe was amazing as an S1 swimmer representing the school and Fife in her first year at High School.
Edinburgh Film Festival
DAS 5 enjoyed a visit to the Edinburgh Filmhouse on Thursday the 22nd of November as part of The Edinburgh Film Festival.
The class viewed a movie called "Journey's End" which was set in the trenches during WW1.
Pupils and staff found the story very thought provoking and moving and it stimulated a lot of discussion and debate back in the classroom.
Stocking fillers! (Calendars)
As eagerly awaited as a certain Department store Christmas advert, the annual DAS calendar is now in production and orders are being prepared.
This year's theme is 'Superheroes'. The calendar most certainly captures the talent and spirit of our DAS learners – very well done to those whose entries were chosen as the twelve winners for this year. In addition to being very unique gifts, the calendars have all school holidays and inset days noted for convenience. We are happy to accept all orders – the calendars cost £2 per copy – all orders to the DAS dept. please!
It's beginning to look a lot like Christmas!!.....
Balwearie DAS enjoy all the fun and celebrations during the festive period – a number of events are planned:
Christmas Fair – Friday 7th December
Classrooms are all busy workshops as each group works on their enterprise project preparing high quality crafts to sell at the Christmas Fair. Our Fair is always a special way to meet and greet family, carers and friends who enjoy coming into our gym hall transformed into a Christmas Bazaar for the morning. Mince pies and tea/coffee will be available too in our Christmas Refreshment room! This is an important fundraiser for the Dept. and a great social occasion for all too.
Panto trip – Friday 14th December
Staff and pupils are looking forward to heading along to the Adam Smith Theatre on Friday 14th December for the Beauty and the Beast panto. Thanks to fundraising efforts throughout the year we are able to subsidise the cost of the tickets.
Christmas Service – Monday 17th December
This year our Christmas Service is on the later date of 17th December. School chaplain Rev Jim Reid will attend and is a great supporter of this very special event. Our choir is being put through their paces in preparation of hearty renditions. Class groups are busy rehearsing their own individual presentations. Staff are amazingly creative and enterprising at rising to the challenge of making this so moving and thought-provoking each year.
Christmas Parties – Tues 18th Dec/Wed 19th Dec
Following on from all of their hard work in preparing for the events above it is great to enjoy a party to celebrate during the last week of term! Glad rags and Christmas jumpers at the ready! Sausage rolls in the oven!
SPORTING NEWS
Fife Schools Swimming Championships 2018
Congratulations to all of the pupils who took part in the above event. The swimmers did the school proud with almost everyone achieving a medal. Erin Taylor S2 won 3 gold medals from her 3 events, putting her top of the Scottish rankings for 200m butterfly. Other medallists included Theo Goodfellow S5, Neza Dolenc Luznar S4, Mark Scott, Esme Lee S1, Holly Armit S2. Personal best times were also gained at the event. This is a great achievement at a highly competitive event – well done!
Girls Football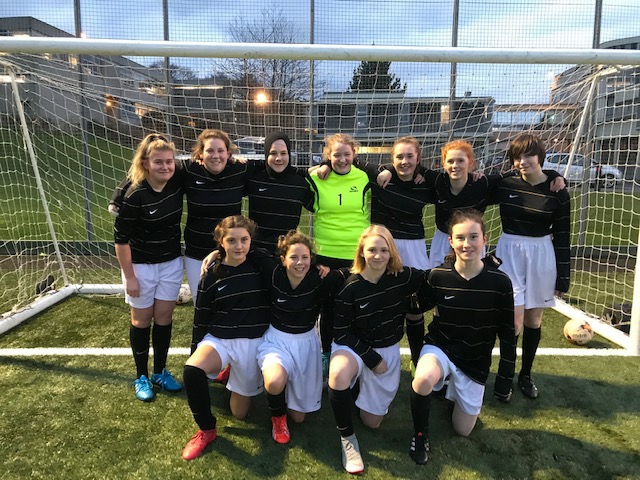 Balwearie had five girls attending the Fife Schools and Fife Olympiad trials at Auchmuty High School on 31st October. With over sixty-five girls battling it out to get in to the two squads, we had a number of successes from Balwearie. Maisy Hathaway was selected for the Olympiad and the Fife Schools Squad and has since been selected to represent the East region Scottish Schools. Erica Wyse was selected for the Olympiad Squad and Emma Nield was selected for the Fife Schools' squad and has since been selected for the East region squad. Well done to all girls on their thoroughly deserved selection.
Balwearie played their second under 18 girls football league game against a much more experienced Lochgelly side. The game finished 8-3 to Lochgelly but there was some fine play and excellent goals from two S1 pupils; Rosie Nield and a first Balwearie goal for Brooklyn Kelly-Johnston. Goal of the game however came from a debut goal for S3 pupil Cerys Conroy, who scored on her first ever game for Balwearie with a rocket of a shot and continued with celebration of the night.
Competition Organisers Training
Two pupils sacrificed their long lie in on In-service day to attend the Youth Sports' Trust 'Competition Organiser' Training day at St Andrew's HS. S3 pupil Emma Nield and S4 pupil Abbey Meikle were selected to attend the training as part of their Active Schools Ambassador roles, and spent the day learning about how competition can be introduced to intra school activities, to offer more of our pupils that chance to engage in sport and physical activity in the school.
We look forward to seeing what they plan to introduce to the school.
Girls Rugby
……is now up and running at Balwearie!
A very keen, enthusiastic bunch have been put through their paces under the auspices of Rugby Development Officer and Coach, Corgi!
Friendly matches are currently being organised and Corgi would be delighted for any new recruits to come along on Thursdays after school to the training held in the school.
School Netball Successes!
The Senior Girls Netball A Team continue with their stream of successes!
Recently a trip to Woodmill High School saw the strong squad achieve a 29-2 win. A home win then against Bell-Baxter High also resulted in a hefty lead of 27-3. Well done!
Looking good for the imminent Senior Tournament at the Michael Woods Centre in December. Good luck to all the girls……no pressure!
Fife Schools Senior Boys Basketball League
The Balwearie players dominated play in the Fife Schools Senior Boys Basketball League match with a 58-42 away win against Waid Academy.
Once Balwearie took the lead in the first quarter, they kept control of the match and ended with a convincing win. Next up is Glenrothes High School on Wednesday 5th December 2018. Squad – P. Colompar, M. Dorot, J. Guild, J. Holley, G. Hugh (Captain), Y Petrie, A. Sharp, J. Smialek
Diary Dates
14th Dec 2018 – Senior Winter Formal 6pm
19th Dec 2018 – Christmas Concert
21 Dec 2018 – End of Term
7th Jan 2019 – Term Starts
10th Jan 2019 – S2 into S3 Course Info Evening 6pm
14th Jan 2019 – S5/6 Prelims
17th Jan 2019 – S2 Parents' Evening 5pm
25th Jan 2019 – S5/6 normal timetable resumes
30th Jan 2019 – S4 Parents' Evening 5pm