Related Pages
Fife Free Press November '18
Spotlight on Staff Feature
We hope you enjoy finding out a little more about our inspiring staff here at Balwearie! This issue, we would like to introduce two of our teachers who have been contributing to the wider school in shaping greater participation of young people in sports and promoting the role of the Parent Voice at Balwearie.
Ms Lynch – Teacher of English
I loved doing my degree in English literature and right from the start I knew I wanted to be a teacher. I studied at Queen's University in Belfast, and the course (and night life) there was brilliant. Then I came back to Scotland to do my teacher training in Glasgow and, thrown into the deep end on one student placement in a school where four English teachers were absent, I got my own classes and thoroughly enjoyed the work. My first permanent job was in Woodmill High in Dunfermline. That was a joy for a new teacher - with lots of other probationers on the staff and loads of activities to get involved in. That's where I did my first residential trip, and took forty senior pupils to Dublin for a creative writing weekend. Then I worked at St. Andrew's High in Kirkcaldy for about 15 years, and I also loved my time there, making several lifelong friends. Having worked part-time for several years, and with two children who were now of secondary school age, the time came to return to full time work, so I was really pleased when a post came up at Balwearie. I've been here since 2012 and it's a fantastic English department to work in.
I feel really lucky to work with such like-minded colleagues. It's a large department - about thirteen of us - and we really have a lot of laughs. Workload in any English department tends to be massive, especially in terms of marking, but the course materials are great and there's a lot of flexibility for individual teachers to be innovative and creative. The pupils are great too - as they have been in all the schools where I've taught - and the majority are keen to do well. I am continually taken aback by just how many opportunities there are for pupils here - both in terms of course choice and extra-curricular activities - and by how much 'extra' staff give to pupils in terms of their interest and personal time. A particular highlight of my time here so far has been accompanying pupils on the department's annual Harry Potter London trip.
I hope that most of my contribution comes from what I do daily in the classroom: I think that trying to spark some enthusiasm for literature in every child I come into contact with is the most important part of the job. Out with the classroom I try to be an active member of the Parent Council. I joined as a parent before I started working here, and currently have the role of 'Communicator' - keeping the parents' section of the website updated, writing the minutes, and generally acting as a link between the parent community and the leadership team. Getting more parents to join us is always a difficult task, but we have a new chairperson now and the group is going from strength to strength. The thing I love most about teaching is that I'm never bored and that I can - hopefully - make a difference!
Ms Lynch's quick-fire questions:
What is your favourite film? 'In the Name of the Father', the film about the wrongful convictions of the Guildford 4, with Daniel Day Lewis playing Gerry Conlon
If you could live anywhere in the world, where would it be? Belfast or London
What is your favourite music genre? Folk
What is your favourite sport? Absolutely none. Sorry!
Are you a morning or a night person? Night
What is your best childhood memory? Sitting up through the nights on holiday, playing cards with my lovely grandparents in Merthyr Tydfil, South Wales.
If you could have a superpower, what would it be? To stop time, preferably at the end of the summer holidays to add another 6 weeks!
If you weren't a teacher…you would be a…. journalist or folk singer.
Best piece of advice you've ever been given... My parents weren't really ever advice-givers, and I probably never sought much, so I suppose any words that have meant a lot have come from books. My favourite is from 'Pygmalion': "The great secret, Eliza, is not having bad manners or good manners or any other particular sort of manners, but having the same manner for all human souls: in short, behaving as if there are no third-class carriages, and one soul is as good as another." ― George Bernard Shaw
Miss Anderson – Active Schools Co-ordinator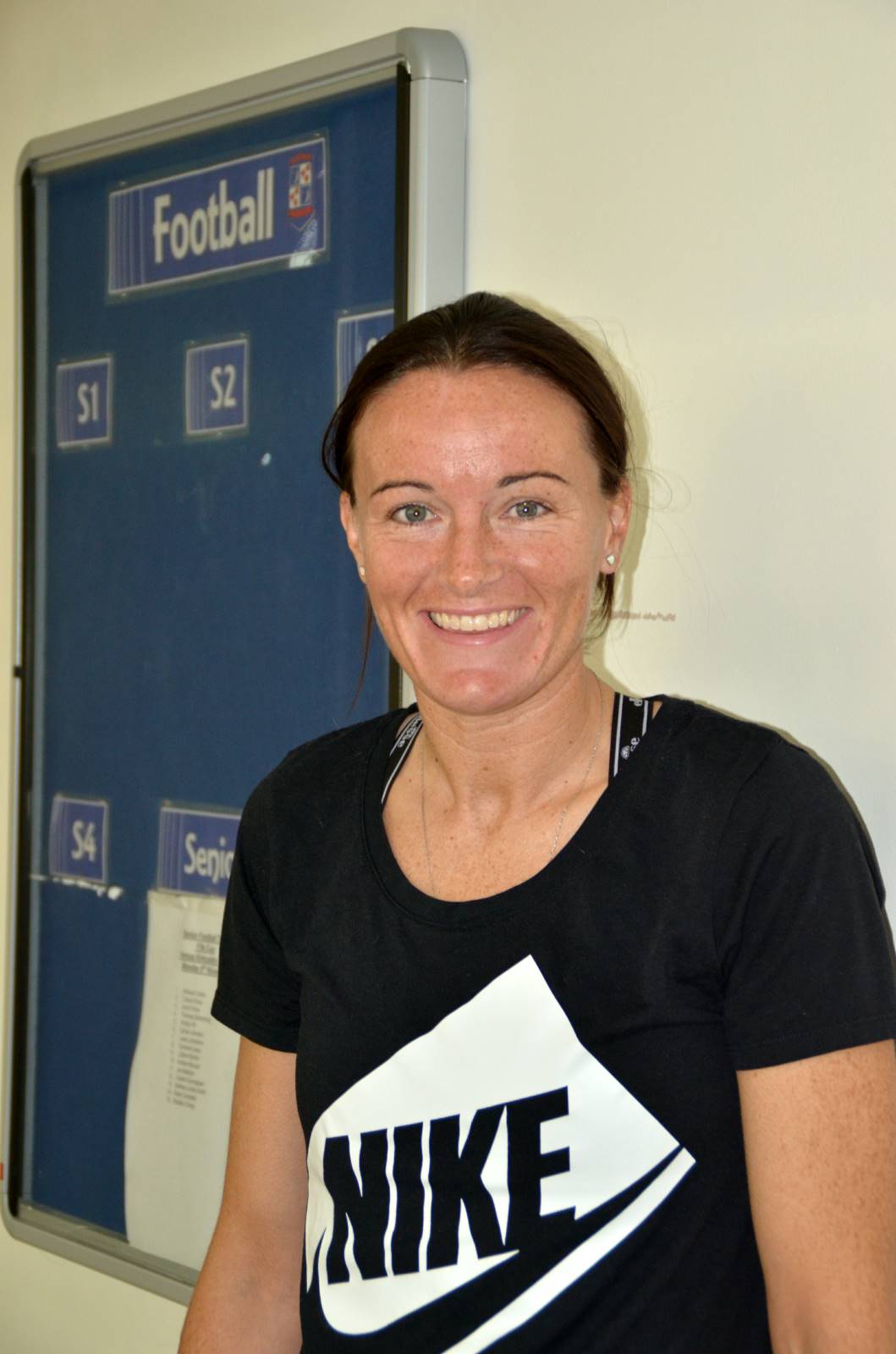 My lack of gymnastic ability put me off PE teaching and upon completing my dissertation in a Fife Primary School, I interviewed a person that did the job I now do. I knew then it was the job that I wanted to do and when the Balwearie post came up shortly after I graduated I was over the moon. I have been in this post for over 12 years now and still love the job as much as I did when I first started.
I love our cluster as I get to work in all of the cluster primary schools and in the High School. I have now been here long enough to work with pupils in S6 that were in P1 when I started the job. We have an amazing array of high achievers in sport in our school across a wide range of sports, and I love watching the journey they make from initial participation in primary school to those that compete at club level, regionally and internationally.
Being the link between the High School and Primary Schools in our cluster is very rewarding and offers lots of opportunity for work across all age groups. The Sports Leaders programme has been very successful in taking S6 pupils back to their old schools to deliver sport and activity to P1-P7 classes. The primary pupils love having senior pupils in with their fun ideas and enthusiasm for sport and activity. It also allows for more opportunities for transition as more and more P7 pupils attend the High School for S1 sports clubs and sporting competitions. We have also set up school leagues where our cluster schools attend for football and netball matches each term, with senior pupils assisting in the running of the events. I am always amazed at how capable our pupils are when it comes to delivering and leading to younger children.
The thing I love most about teaching is that every day is different, working with young people and getting to work with my friends. The main thing for me, and probably the reason I haven't moved in to full time football is that coming to work doesn't feel like a job. I think if you have a job you enjoy, then your life is a happier one.
Miss Anderson's quick-fire questions:
What is your favourite film? The Lion King
If you could live anywhere in the world, where would it be? New Zealand
What is your favourite music genre? I love Christmas songs!
What is your favourite sport? Football.
Are you a morning or a night person? Both!
What is your best childhood memory? I have two that I can't pick between. I went to a very small rural school in Lanarkshire with only 30 people in the whole school, so we didn't usually win a lot sporting wise. I was a runner when I was younger and in P7 was entered for the Scottish 800m. I won it by about an inch, ahead of the Scottish and British champion at that age group at the time. I didn't attend any formal athletics coaching and was trained by my Headteacher Mrs Airlie, her only real running qualification was that she owned a stopwatch! She was an older lady and had me on her shoulders at the end, as we went back to school. I was the village heroine for a while and they even named the new village hall after me. I thought I was billy big time for quite some time. The second is a little random but it was winning the Highland Show with a lamb that I had bred from a sheep I bought in Carlisle with birthday money. It was being filmed for a documentary at the time and from that we got invited to a show called the Big Breakfast on Christmas Eve in London. It was amazing!
If you could have a superpower, what would it be? I'd love to fly. I hate flying and we fly a lot with football, so I would just get myself there and back quite the thing.
If you weren't a teacher…you would be a…. farmer.
Best piece of advice you've ever been given... When I moved schools in S1 I had an interview with my new Headteacher and she said, "Have the courage to live a life true to yourself, not the life others expect of you." I think I have pretty much followed this advice since then.
Home Economics Department – have been very busy!
Challenge Poverty Week
To help support Challenge Poverty Week at Balwearie High School young people collected free give away bags of soup or fruit crumble including ingredients as well as a recipe. The bags were offered to all young people across the school and helped to remove stereotypes that exist about poverty as well as highlight that poverty does exist in Scotland and affects us all. The grab bags were very well received by all!
McMillian Coffee Morning 2018
Hospitality students at Balwearie High School catered for and hosted McMillian Coffee Morning on Friday 28th of September. This was planned as part of front of house management skills in Hospitality practical cookery courses. Young people planned, prepared and supported the charity by hosting the event, creating a range of baked items as well as organising a raffle. Generous staff helped raise £348.25! Amazing!
Big Broth
As part of Health and Wellbeing and to help support the charity Centrepoint, Hospitality students at Balwearie High School hosted The Big Broth on Friday 2nd November where almost £90 was raised! As part of front of house management training for Hospitality courses across the Department, classes catered for and assisted in hosting a Soup lunch for all staff. Centrepoint helps support homeless young people in the U.K and provides them with housing, health provision, and life skills to help get them back into education, training and employment. Well done to all young people involved and thank you to staff for ongoing support!
Rotary Young Chef Competition
Pupils from Balwearie High School sponsored by the Kirkcaldy and Burt Island Rotary Club took part in the preliminary round of the 2018 Rotary Young Chef Competition on Monday 29th of October. The competition for secondary school pupils involves preparing a healthy meal for two people, showing their ability to be creative without demanding expensive ingredients and following the principles of a healthy diet. The winner of this preliminary round was S4 Pupil Mackenzie Graham with S3 Elizabeth Fehr runner up. The standard of food produced by all competitors was incredible. Both young people will now progress to the Rotary Young Chef Local Competition at Fife College, involving other schools in the area. All competitors received certificates to celebrate success. The competition was judged by Rotary members Mark Rossiter and Brian Munro with Sharon Munro overseeing the competition.
Elizabeth Fehr – our runner up wrote about her experience!
When the competition came up for the 2nd time at Balwearie, I knew I had to enter. Last time it came up, I couldn't do it and instead I entered a bread making competition and won runner up; but ever since I had wanted to enter it again, mainly to just try, although I did hope I'd at least get runner up again. And I did, and it was worth it!
I was surprised, really. I thought I be at least 3rd or something, not because of my food, but because of my meagre presentation, but I was still very happy after all the hard work and effort I put into it. I practiced and practiced and practiced, and the night before, I practiced it all, and got the costing sorted out, and a time plan done - I was completely exhausted. But I was excited and nervous at the same time.
I was completely tense, but I was mainly excited and exhilarated. I couldn't believe that I was going to do this competition this year when I couldn't do it last year due to lack of planning. I was calm about it though, because I knew that I could do it as soon as I signed up for it. I think that when I first wanted to do it, I didn't realize how much planning it would take, but this year I was sort of prepared, even though I started planning really late, almost at the end of the October holidays and I was freaked out about planning, but we managed to get a menu that was really, really good in the end, and I was proud of it. I decided to do for the starter, a pea soup with a parmesan crisp and pancetta. For the main, I cooked pan fried tilapia with gnocchi, grilled peppers and a pesto brown butter sauce. For dessert, honey and walnut cake with whipped cream.
The competition began after all the judges arrived. The pressure level went up when I heard they had arrived at the school, and it went up more when they came into the Home Economics classroom. When we started, I started on the cake immediately. Then I moved onto the starter. Then after, I started to multitask with the starter and main, and when the cake came out of the oven, I multitasked with that as well. I managed to get it all out in the right order in the 2 hours we had, though I was pushing it with the dessert.
I think that when I go to the local finals, I may improve my serving presentation so that it's less plain. And I think that I may add more to the pudding like berries or something like that. But overall, it was great, and I loved the whole thing, especially the challenge of it.
I think that it was an amazing experience to take away with me, and it'll certainly be great practice for me, because I want to become a chef when I grow up. And I was happy that I won, but I also was very happy that I got to take part and push myself to the limit. I never got frazzled at any mistakes, I just kept going and I fixed them, I stayed calm, and I am very happy about that.
Launch of World Challenge 2020: Swaziland & Mozambique
Working in partnership with World Challenge we are offering S3 & S4 pupils the opportunity to travel to Swaziland and Mozambique in South East Africa for an experience of a lifetime. Our launch meeting for parents and interested pupils was on Tuesday 30th October at 6pm in the Assembly Hall. Interested young people should contact Mrs Slade for further information and to sign up by 13th November 2018
Launch of the Balwearie School Show: "Our House" with music from Madness
This fast paced and exciting show will give our pupils the chance to showcase their talents. Performances shall be from the 19th to the 21st of June 2019. Put these dates in your diary as this is a show not to be missed!
English Department Harry Potter Trip to London – October 2018
A great time was had by all pupils and staff on the annual Balwearie English Department London trip. It was a packed three days and, after an early departure from Kirkcaldy train station, we arrived at King's Cross and walked to our hotel which was situated near Russell Square.
We didn't waste much time unpacking because we were keen to get started on our busy itinerary. After an enjoyable hour in the sunshine, ambling round the shops and stalls in Covent Garden, we enjoyed a meal at Pizza Express then headed to the Gillian Lynne theatre for our first show. 'School of Rock' was a brilliant choice - based on the iconic, hit movie, it follows Dewey Finn, a failed, wannabe rock star who decides to earn an extra bit of cash by posing as a supply teacher at a prestigious private school. There he turns a class of straight –A pupils into a mind-blowing rock band. The performances by the child actors were impressive and everyone thoroughly enjoyed the show.
The majority of our second day – a visit to the Warner Brothers studios in Watford where all the Harry Potter films were made – was the highlight of the trip. Pupils were thrilled to go behind the scenes of some of the most iconic sets and see the actual props, costumes and techniques used to make them. Dinner that night was also served against a backdrop of film memorabilia and we had a great meal in Planet Hollywood near Trafalgar Square. After that we made our way along Shaftesbury Avenue to the Prince Edward Theatre for a performance of 'Aladdin'. The hilarious character of the genie definitely stole the show, but we were also really impressed with the incredible stage sets and lavish special effects.
Our final morning was one of great hilarity as two entertaining actors took us on a walking tour which combined many of London's iconic sights with instantly recognisable locations from the Harry Potter films. Our hosts were real experts, regaling us with snippets of information such as who J.K Rowling specifically had in mind to play the parts of her main characters, and just how much it cost -£150,000 per hour – to close down Westminster tube station to film a memorable scene with Rupert Grint. After this, we hurried back to collect our luggage from the hotel for our journey back to Fife.
We are very pleased that so many parents and pupils have been in touch to let us know how much they appreciated the efforts made in the organisation of this trip.
"I made new friends and had a good laugh. Great trip. I wish we'd had more time." (Hayden Crisp)
"Aladdin was an amazing show and I also loved School of Rock." (Rhiannon Mackie)
"The best part of all was the Studio tour because we got to see all the sets." (Oliver Quigley)
"The trip was really fun and we all had a great time." (Olivia Delaney)
""It was a really enjoyable trip with great entertainment and meals." (Karis Halpin)
A huge congratulations to all of our budding authors who entered the 'Young Writers' – Stranger Sagas competition. Pupils from S2 through to S5 created one hundred word stories with only a starter sentence as inspiration. In total, the English department submitted 142 entries and ALL 142 entries have been selected for publication in the collection, Stranger Sagas – Tales from Scotland, due to be published on the 30th November of this year. This is a truly fantastic achievement. Well done to all of our pupils who took part! This is the 27th year the competition has run and the organisers have received in excess of 20,000 entries. The editors say that they have been wowed by the standard of the entries and that they've come to expect the unexpected! Individual prizes for the best published pieces will be announced later in the year. Watch this space… We hope this incredible success encourages all of our pupils to keep writing!
Design and Technology Department - Raytheon Quadcopter challenge 2018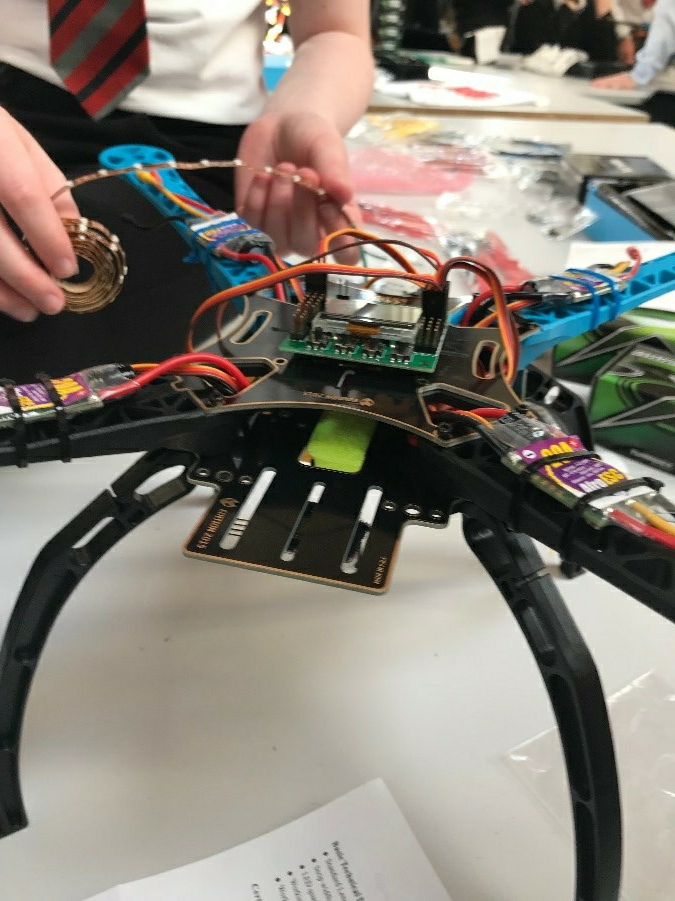 Our S2 Design and Technology pupils have been involved in an exciting opportunity with Raytheon UK and The Raytheon Quadcopter Challenge. This STEM programme covers a variety of engineering principles including aerodynamics, mechanical engineering and programming. Our young teams where challenged to build a quadcopter drone which they then modified to suit a design brief. 5 teams took part in the Balwearie High School Final, where STEM ambassadors from Raytheon scored teams on their design, flight skills and team work. From this, one team was then selected to represent Balwearie and compete in the Fife final on Wednesday 14th November at Auchmuty High School. The Fife Final brings together schools from across the Kingdom to compete against one another and the winners will represent Fife in the UK Final in Birmingham on the 12th of December 2018.
Construction Academy – Opportunities Fife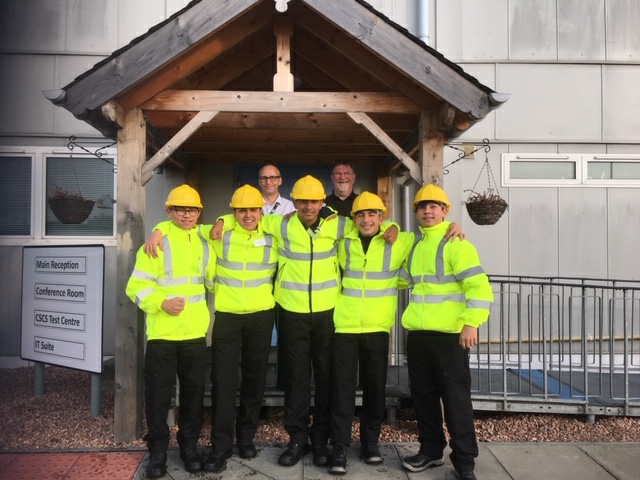 We had 5 young people attending the Construction Academy pilot. They impressed the staff and were a pleasure to teach and a credit to the school. Skills Development have great hopes for them moving on to one of the mainstream construction programmes in the New Year. Attached is a photo of them all kitted out in their new uniforms and PPE.
Advanced Higher Modern Studies Prison Trip
Our Advanced Higher Modern Studies class are currently studying Crime and the Law, so in order to expand our understanding of the justice system we visited 2 prisons: HMP Edinburgh and HMP Addiewell. We got to speak with the staff who don't directly come into contact with prisoners and those who do along with the prisoners themselves. In the morning we visited HMP Edinburgh where we got a tour of the various facilities and rehabilitation workshops, such as the laundry room and the hairdressers, where we got to speak with prisoners who take on these roles. We also got a tour of the cell blocks and even go to go into a few of the cells. In the afternoon we visited HMP Addiewell and we got a very honest and personal insight in to life there. Whilst touring the rehabilitation facilities and cell blocks we got to sit down and speak with a gentleman who had just finished one of the rehabilitation courses on offer in Addiewell. He was 7 years into a 14 year life sentence and hearing his views on the prison system, as well as his clear guilt and determination to fix his life once he is released for the crime he was in for left a last impression on all of our class. The trip was definitely one which our class enjoyed and has helped us take a more personal approach to the crime and justice work we're doing in class. – Fraser Matheson
Science Faculty – Chembus Experience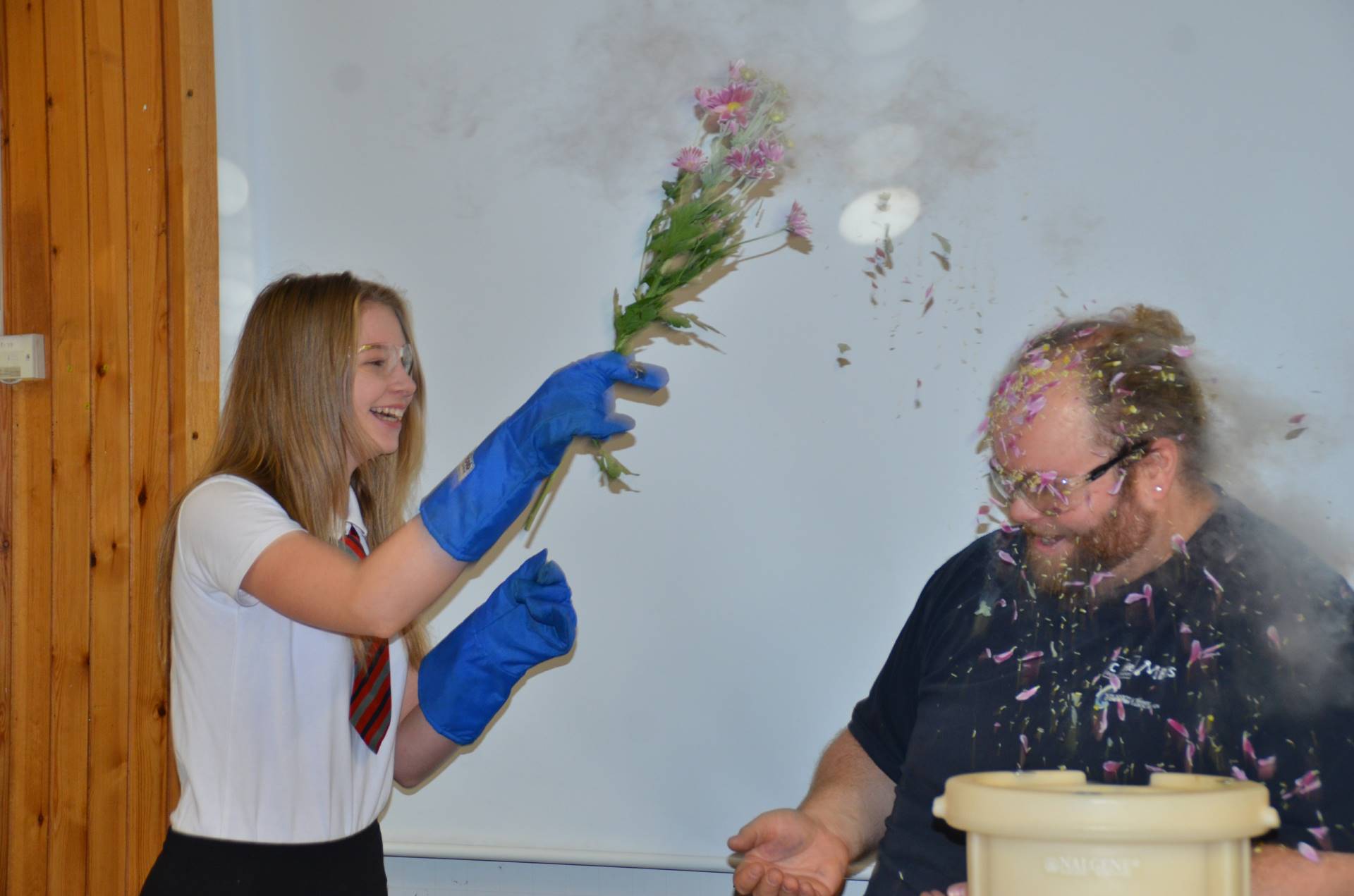 On Thursday last week, the Science Faculty invited all S2 pupils to visit the CHEMBUS - a travelling chemistry event run by St. Andrews University. Pupils were given a short demonstration about the properties of gases in the atmosphere with some liquid nitrogen experiments and then participated in hands-on activities to; make invisible ink, examine the properties of polymers and carbon dioxide and turn a 2p into a gold coin.
Pupils really enjoyed the event and we hope St Andrew's University will return again next year.
"The show was very fun and enjoyable my favourite part was when we used dry ice to blow up a balloon. My other favourites include freezing a banana and the elephant tooth paste." Ruariridh Davie
"We had a lot of fun watching experiments about liquid Nitrogen and how it makes everything as fragile as glass like a banana being shattered against a table and a flower getting shattered over the demonstrator's head." Finlay Knight
"You got the chance to see experiments which you'd never see in school. I really enjoyed it." Nathan Earnshaw
Music Department Success – Fife Youth Orchestra
Thirteen of our Balwearie students recently took part in the Fife Youth Orchestra residential course and concert. They joined students from across Fifes Secondary schools, performing music together of a challenging and high standard to an audience in Lochgelly Centre. Well done to all involved!
Shona Briers Violin
Finlay Bryden Cello
Lucy Clunie Cello
Catriona Docherty Cello
Hannah Gillespie Viola
Sorcha MacGlone Violin
Gavin McWhinnie Violin
Iain McWhinnie Violin
Douglas Morrison Trombone (Bass)
Magnus Reid Viola
Aurelie Reijnen French Horn / Pedal Harp
Max Schroeder-Smith Clarinet
Keira Young Viola
Balwearie Parent Voice – come along!
Moving Forward: We are pleased that our recent AGM brought along a few new members, and, with the appointment of a new chairperson, treasurer and communicator, we are confident this is now a group that can move forward as a representative body for all parents/carers of Balwearie pupils. Keep checking the website for information about the topics to be discussed at future meetings and to have your say about what you would like know more about. Next Meeting: Wednesday 28th November – more details on our website at http://www.balweariehigh.co.uk/Parents/Parent-Voice/
Key Topics Presented by Senior Leadership team: 2018 Exam Results; Budget Update. All welcome!
DAS NEWS Nov 2018
DAS Pupil Leadership Team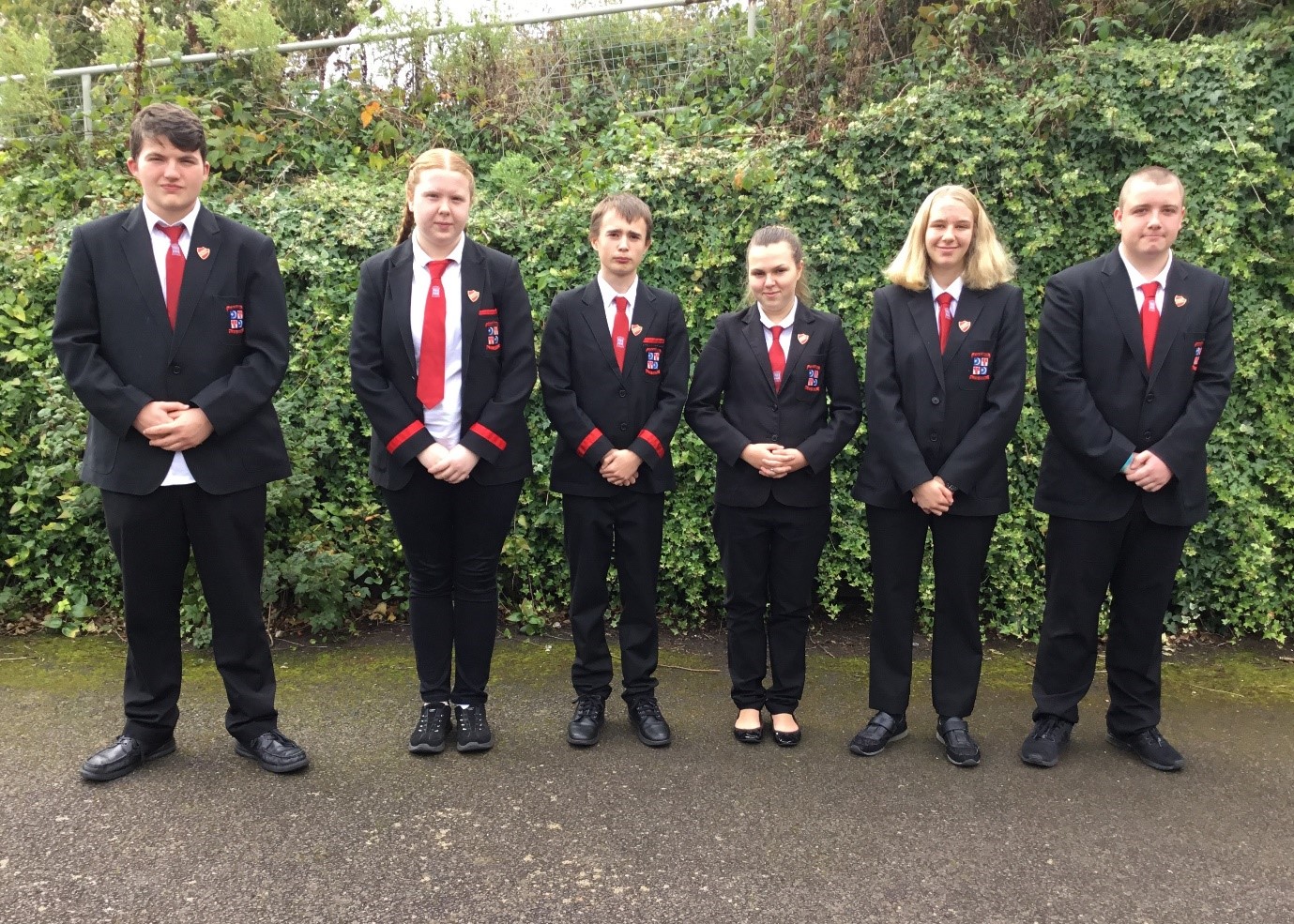 We have now recruited the pupil leadership team for this school session and have our Prefect Team now complete. The senior pupils who applied were very impressive in their application and at interview. We look forward to benefitting from their commitment and support in many areas of school life. They have already shown great promise in their role. Duties to date have included: welcoming and greeting parents/visitors to DAS; leading tours of the Dept; buddying; being involved in decision making on behalf of our pupils and several others. They are super ambassadors for us and we value their contribution.
Out and About in Autumn:
All staff and pupils in DAS enjoyed our annual Health and Wellbeing Day towards the end of last term. Pupils chose from an exciting range of options:
Perth Swimming Pool, Hill Walk, Photo Orienteering at the Botanic Gardens in Edinburgh, Beach combing, Swimming at Kirkcaldy Pool, Healthy Cooking, Yoga, Making Healthy Smoothies, Cycling, Boxing, Walking football, Outdoor Gym, Pamper Session. A fantastic opportunity to enjoy learning outside the classroom whilst building positive relationships and exploring Skills for Learning, Life and Work. The rain held off until the afternoon and all returned back to DAS bubbling with happy tales of their different days out and about.
Disability Sport Fife Interdepartmental Swimming Gala
The DAS swimming team headed to Lochgelly High School in October to represent the school at the annual DSF Interdepartmental Swimming Gala. We were delighted to celebrate individual successes, especially for our S1 pupils representing the school for the first time, one of whom won gold! One of our senior pupils, Calum Robertson, was very deservedly awarded the trophy for Best Male Swimmer of the gala – well done Calum!
RAINFOREST IN EDINBURGH?!
On Thursday the 25th of October S3 pupils spent an enjoyable day at The Royal Botanic Gardens in Edinburgh. They visited the glasshouses and were able to see, feel, touch and smell many of the plants they had been learning about in their Social Studies Rainforest topic the previous term.
They were also able to taste some of the products which grow there and learn more about the medicinal uses of some of the plants.
It was a very different climate within the glasshouses in comparison to our chilly Scottish Autumn.
The pupils' behaviour was excellent and they really engaged with their learning. staff were very proud of all of them.
COATS FOR KIDS – Senior Pupils make a difference!
As part of their National 3 Modern Studies unit: Social Issues in the UK, D8 led a charity appeal to improve the lives of children in Fife. They chose the Coats for Kids initiative with the aim of collecting good quality warm coats to be distributed to children and young people whose families may struggle to ensure they have warm coats for the colder weather. As always our families and staff responded very generously and we were delighted to be able to deliver a huge collection of coats to the Town House in Kirkcaldy to be given to those in need. Well done D8!
Lest We Forget
Class D4 have been focusing on World War 1 for their Social Studies topic this term – very timely given the centenary of the Armistice. The class walked to the War memorial in Kirkcaldy to support learning about the impact on families in Kirkcaldy. They plan to return to the Memorial following Remembrance Day and to visit Carnegie Library for an exhibition on WW1.
On Your Bike
Pupils in D5 are developing their cycling skills in partnership with Bikeability and we are very pleased to welcome Shealagh, Bikeability co-ordinator to lead the programme using our own DAS bikes. This is a new venture for us and a very welcome one since we have offered National 2 units in Cycle Safety and Maintenance for our senior pupils last year and hope to do so with our senior pupils in the future.
Our Bright Futures
Our next group of pupils are preparing for their employability option at Falkland Estate on the Our Bright Futures Rural Skills Academy project. Each of our pupils who has taken up this opportunity have loved the experience. We are confident the current group will be equally responsive and again great reps for DAS and our positive work ethic.
Ooh La La!
To support their National 2 Modern Language units: Transactional Language and Personal Language, D8 travelled to the Edinburgh Filmhouse to view the film 'Belle et Sebastien' being shown as part of the 2018 French Film Festival. This was a new experience for the pupils and very challenging re listening to the French dialogue and following the English subtitles!! As always however, in the true Balwearie DAS spirit they rose to the challenge and loved the visit and the film!
Tucked up for winter!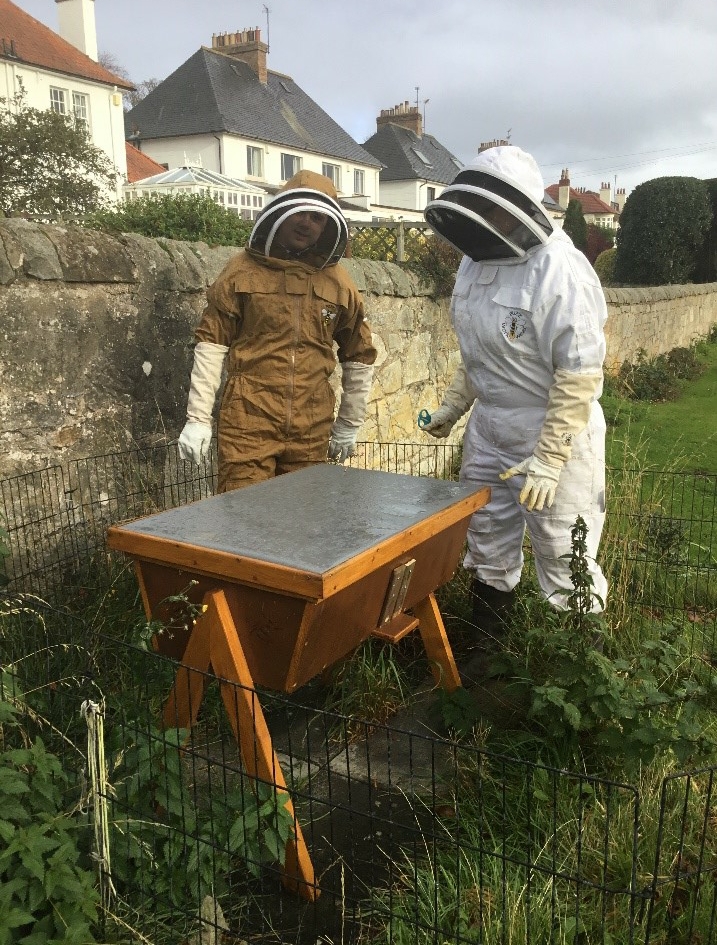 Thanks to Bee Buddies our Balwearie DAS colony of bees are now cosily tucked up for the winter safe in their hive in our garden area. Pupils donned the protective suits tohelp with the winter preparation. We hope they have a good long rest and look forward to the spring when we can follow their progress.
SPORTING NEWS
Girls Football
With a massive boost in the number of girls attending extra-curricular girls' football, Balwearie travelled with a large squad in the first of their Under 18 Fife League fixtures to Glenwood High School. The young Balwearie side found themselves behind twice, but came back to win 3-2 with two debut Balwearie goals from Nield junior and not to be outdone by her sister Nield Senior.
To continue to work together as a team, the girls have joined the Balwearie P6/7 cluster league to play against boy's teams from Kirkcaldy West, Burntisland, Torbain, Dunnikier and Kinghorn. They have already played over ten games against boys and have been enjoying the different challenge that this brings. They have recently been joined by a number of P7 girls from Kirkcaldy West, who now attend the girl's only extra-curricular football to further strengthen the sporting links in the cluster.
S2 Football
Balwearie defeated Lochgelly 6-0 in the first round of the Fife Cup. Balwearie came from 3-0 down to beat Woodmill 4-3 in the Fife League.
Swimming Programme
Active schools ran a primary school non-swimmers programme over the holidays, delivered by three Balwearie pupils. Senior pupil MacDonald, S4 Meikle and S3 Nield all volunteered over the second week of the October holidays to run an intensive water confidence class for P4 and P5 children from cluster schools. The course was highly successful with many children who refused to get in the pool on day one, showing a huge increase in confidence and also in swimming ability by the end of the week. MacDonald, a club swimmer and swim teacher, is now going to run a secondary learn to swim programme for non-swimmers in the High School on Monday after school.
Netball News
S1 Netball
The S1 netball teams have had several friendlies this term to give them experience of representing the school and getting to know their team mates. Across the session all S1's have been attending training regularly and their enthusiasm to play and improve is contagious!
Tuesday 18th September
First game for the S1 team was at home to Woodmill High School, the team dominated play working well both in attack and defence. Particularly impressive was the pupil's use of support players round the circle. The game eventually ended with a 14-2 win to Balwearie.
Monday 24th September
The A and B teams travelled to Beath High School to play two friendly matches. The A team took on Beath's A team, Balwearie were particularly strong in defence closing down space limiting Beath to very few chances. The game finished with a 9-0 win to Balwearie.
The B teams then took to court, some excellent work in the shooting circle from the Balwearie GA and GS led to the game finishing 10-1 to Balwearie. A strong performance from both teams giving a great confidence boost moving forward.
Wednesday 3rd October
Again the A and B teams travelled to Kirkcaldy High School to take on their respective teams in a local friendly game. Many players had faced each other at primary cluster tournaments last year, so all the pupils were excited about meeting again. The A team took to court first after a slow start the girls settled into a rhythm disrupting KHS's play, winning the tie 12-1.
The B team took part in a much closer game where Kirkcaldy went into a 2-0 early lead, but over the course of the game managed to pull it back with tight game finishing all square with a 4-4 result.
S2 Netball
S2 Netball team have made a very strong start to the season on the back of winning the S1 Dave Garland Tournament at the end of last academic session. The confidence is clear to see with girls eager to attend training and work together to improve. Two fixtures in the league have been completed so far…
Tuesday 18th September
Balwearie hosted Woodmill A in the first league game of the season, starting where they left off last year transitioning the ball through the court from attack to defence excellently. A strong last third to the game lead to a 22-9 victory to Balwearie, first points of the season on the board and an excellent foundation to build from.
Wednesday 26th September
The Balwearie team travelled to Cupar to face Bell Baxter in the league, again it was the strong play in and around the shooting circle that told with the team eventually winning 19-5. After the result it was a very happy bus ride home, next up in the league is Beath at home on Thursday 25th October.
Senior Netball
Wednesday 3rd October
Senior A team had their first league game of the season away to Kirkcaldy High School. Across the 30 minutes Balwearie put in a consistently strong performance particularly in attack, creative play in and around the circle creating many scoring opportunities. After a particularly dominant 2nd third Balwearie ran out eventual winners 31-7. Great way for the seniors to start their league defence, next game is Beath at home on Thursday 25th October.
Rugby News
Balwearie High School vs Glenwood High School
On Wednesday 3rd October 2018 we hosted Glenwood High School at Kirkcaldy Rugby Club. Glenwood have always had a great tradition as a competitive team, Mr Sinclair is working hard to build numbers and get the interest back that was there before. Glenwood requested a combined 1st & 2nd year match, fortunately we have good numbers at the moment as several players had ventured to London on a school trip. Once again Mr Berry from Fife College took charge of the match.
Glenwood arrived early, they only had 10 players so it was agreed to match numbers and restrict the pitch size by bringing the touchline in by 10 meters. Balwearie warmed up and spoke before the match about setting targets to continue to develop from their last fixture, 5 tackles to be made and touching the ball a minimum of 10 times each were agreed. Balwearie kicked off and instantly put defensive pressure on the visitors, some hard, low tackles dislodged the ball allowing Hamish to swoop onto it and outpace the defence to score. This started a pattern for the entire match, Glenwood had plenty of possession but the home team's defence rocked them backwards. Scores from Finlay (2), Murray (2), Archie (1), Daniel (1), Michael (3) and another by Hamish, several were converted.
Whilst it was a good win (78-0) it was much more pleasing to see the strong defence and willingness of the team to share the time playing so everyone got a decent opportunity. Importantly everyone stated they had made their 5 and 10 as agreed. Huge respect to the Glenwood side who never stopped working and tackling right up to the final whistle.
Special mention to Tyree for his defence and Finlay for his all-round play, great improvements guys.
Balwearie V Lochgelly HS
Balwearie travelled to Lochgelly on Thursday 1st November where the competed in an 11 try thriller. Tries from Murray, Connor, Rory and two from the comeback kid Archie were just not quite enough to get the win against a strong running Lochgelly/Beath high school combo. Final score 34-31 to the hosts. Great game to watch, played in good spirit. Well done all involved.
Fife Schools Senior Boys Basketball League
The Balwearie players dominated play in their first match in the Fife Schools Senior Boys Basketball League with a convincing 90-50 away win against Beath H.S. The points were spread throughout the team with a number of three pointers and some excellent individual performances. With Waid Academy being next up the players are looking forward to getting in some extra practice to continue to improve their skill level and teamwork. Well done! Squad – P.Colompar, M. Dorot, J. Guild, J. Holley, G. Hugh (Captain), A. Sharp, J. Smialek
Scottish Schools Athletic Association Road Race – Falkirk
Ben Sandilands won the SSAA S3/S4 boy's road race championship race this afternoon. Peter Scott unfortunately had to retire mid race unwell. Claire Scotland ran in race 3, and was 22nd.
Diary Dates
14th Nov 2018 - S5/6 - Parents' Evening 1
21st Nov 2018 – Fife College Info Evening at Balwearie 6pm
28th Nov 2018 – Parent Voice Meeting 2
4th Dec 2018 – S3 Parents' Evening 5pm
14th Dec 2018 – Senior Winter Formal 6pm
19th Dec 2018 – Christmas Concert
21 Dec 2018 – End of Term