Fife Free Press September 18
Spotlight on Staff Feature
We hope you enjoy finding out a little more about our inspiring staff here at Balwearie! This issue, we would like to introduce two of our teachers who have been contributing to the wider school in shaping senior pupil leadership and promoting the role of prefects at Balwearie.
Mr Finnigan – Principal Teacher of English
I left school in S5 with no intention of going to University but got bored with all the jobs I tried. I decided to go to University aged 21 and loved studying English. When I graduated, I was keen to spend my life teaching literature and trying to get young people to appreciate the value of education at an earlier stage in their life than I did. I have never regretted the decision. I was here as Assistant Principal Teacher for three years in the late 1990s and I returned eleven years ago as head of the department. I have tried to play a role in whole school activities, including a World Challenge expedition to India which finished my right knee off for good, but was incredibly enjoyable despite this! I helped introduce the new prefect system to Balwearie last year. We had never had a prefect system in the school before so it was a lot of work but the pupils involved did brilliantly and helped ensure that it has been an extremely smooth process the second time around. The most rewarding part of teaching is the opportunity to make a real difference in the lives of young people.
Mr Finnigan's quick-fire questions:
What is your favourite film? The Godfather
If you could live anywhere in the world, where would it be? Denmark
What is your favourite music genre? Indie
What is your favourite sport? Football
Are you a morning or a night person? Night…definitely!
What is your best childhood memory? Scoring a goal in the under-15 Scottish Cup semi-final, although I scored an own goal in the final!
If you could have a superpower, what would it be? Ability to play football like Kenny Dalglish.
If you weren't a teacher…you would be a…. journalist.
Best piece of advice you've ever been given... There's this new band called The Smiths coming to Edinburgh – they are really worth seeing live. They were.
Mr Clark – Teacher of Modern Studies
Growing up I had always considered teaching as one of my possible career options. My mum was a primary teacher and I could see how much enjoyment and pride she got from her job. I've been teaching for nearly ten years now and know I made the right choice. Balwearie is a great school to work in. Lots of staff with different skill sets working hard for the pupils and the community. I've seen many changes to the building, curriculum and SQA qualifications - certainly no two days are the same! This year I've taken on the role of prefect coordinator. This is year two of Balwearie having S6 prefects, whose main roles are to help with duties at break and lunch, help with whole school events and represent the school in the wider community. They are also in place as positive role models within the school. I am hoping to further develop the model introduced last year to help the prefect system become a strongly established and successful part of the Balwearie structure. There are lots of things I love about teaching! The daily interactions with pupils, working alongside like-minded people, the challenges we face and how we are able to overcome them. The best part of the job is seeing pupils make progress - whether that is in a lesson, over a term or year, or over the course of their high school career. Seeing pupils making the next step in their life, and knowing you've played some part in helping them get there, is a great feeling.
Mr Clark's quick-fire questions:
What is your favourite film? I'm not exactly a film expert - the last film I saw at the cinema was Dunkirk. That was good!
If you could live anywhere in the world, where would it be? My favourite city overseas is San Francisco, but I doubt I'd be able to live there long. The furthest away I've moved from Fife was Aberdeen - and that was only for one year!
What is your favourite music genre? Guitar music
What is your favourite sport? Football and golf. Wish I was better at both.
Are you a morning or a night person? Night.
What is your best childhood memory? My first foreign holiday with my parents. We went to LEGOLAND in Denmark.
If you could have a superpower, what would it be? To fly (quicker than driving!)
If you weren't a teacher…you would be a…. journalism, I thought about it for a while when I was at school.
Best piece of advice you've ever been given... Treat people how you'd like to be treated.
S1 Fordell Firs Trip - Teambuilding 2018
All first year classes have now had a day out at Fordell Firs, the national Scout activities centre near Crossgates. The following activities were on offer throughout the week: challenge course, climbing wall, team-building, archery and caving. Pupils were encouraged to try out their skills in these areas and coped extremely well with all the challenges. As usual, caving proved to be a particularly popular activity and pupils had great fun navigating their way through the underground tunnels and darker, muddier areas of Fordell. The trip was an excellent opportunity for first years to get to know their guidance teachers, form tutors, pupil support staff, S6 buddies and other pupils in their guidance house. Another big thank-you to the team at Fordell Firs for organising our activities and to our S1 pupils for their enthusiasm and team spirit on the day.
Stranger Sagas Success for our Young Writers!
A huge congratulations to all of our budding authors who entered the 'Young Writers' – Stranger Sagas competition. Pupils from S2 through to S5 created one hundred word stories with only a starter sentence as inspiration. In total, the English department submitted 142 entries and ALL 142 entries have been selected for publication in the collection, Stranger Sagas – Tales from Scotland, due to be published on the 30th November of this year. This is a truly fantastic achievement. Well done to all of our pupils who took part! This is the 27th year the competition has run and the organisers have received in excess of 20,000 entries. The editors say that they have been wowed by the standard of the entries and that they've come to expect the unexpected! Individual prizes for the best published pieces will be announced later in the year. Watch this space… We hope this incredible success encourages all of our pupils to keep writing!
Carole Robinson: Stained Glass Workshops
Sixteen of our S2 Art and Design pupils were chosen to design and create stained glass artworks to be installed and displayed in the school's Crush Hall. Pupils were chosen by pupil vote, as the winners of the art project based on the theme of 'Identity'. The pupils were treated to two glass workshops in school. They will also attend workshops in the studios of the stained glass artist Carole Robinson, to make their final glass pieces. We are all looking forward to seeing the finished glassworks.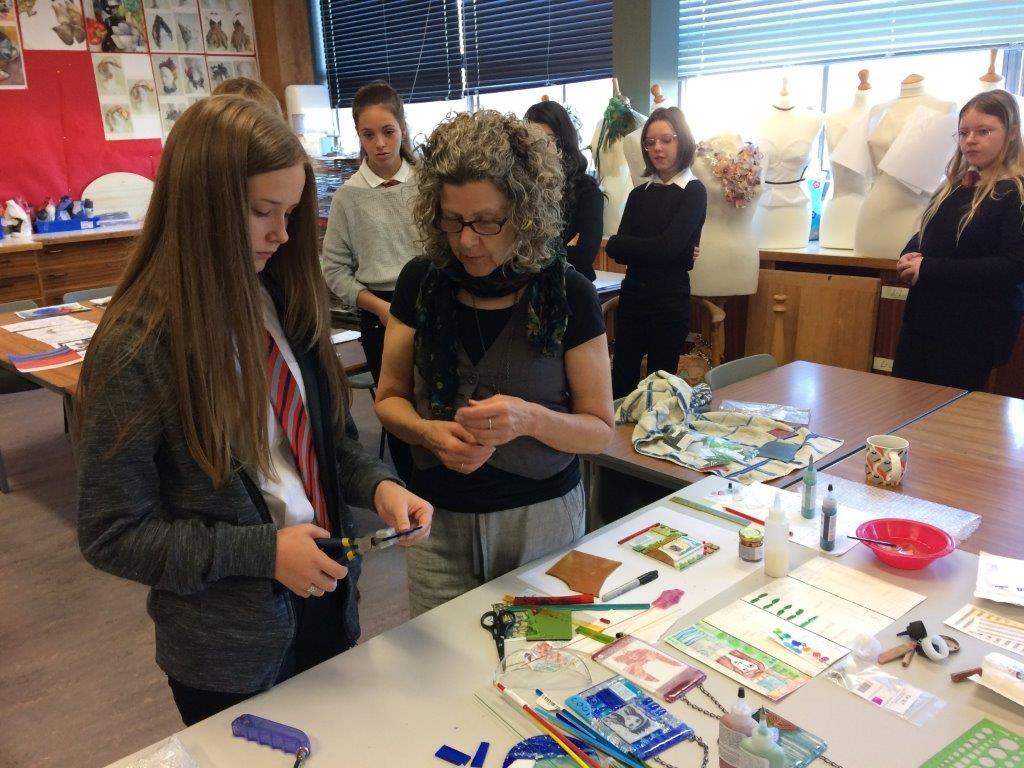 Advanced Higher Physics - Rotational Dynamics Workshop
The S6 Advanced Higher Physics class recently went to the University of Dundee to attend a Rotational Dynamics Workshop. This was led by Professor David Keeble from the University along with demonstrators from the current crop of University students. The workshop allowed pupils to undertake experiments that could not be done in class but also included a short presentation on rotational motion which will support our youngsters in their Advanced Higher class. Many of the young people on the trip are considering studying a science, technology, engineering or mathematics degree at university and this trip gave those pupils an insight into the type of work these degrees might entail. The student demonstrators were also happy to discuss their own experiences with the group, with the academic and social side of university life discussed. The pupils worked together in small groups along with pupils from other schools from Dundee and Tayside and not only left with data that can be used in their Advanced Higher course but a better understanding of university life.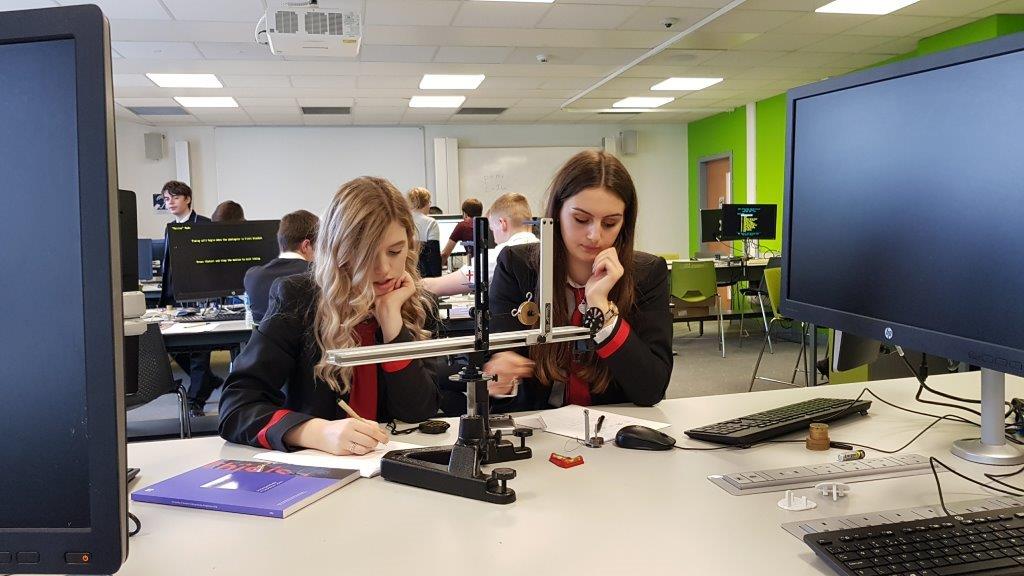 Edinburgh International Book Festival 2018 – Library and English Department Trips
On Friday 24th August 40 S2 pupils accompanied by 3 members of staff were treated to a trip to the Edinburgh International Book Festival. The day began with a very entertaining talk from David Almond, one of the UK's most popular teenage authors. David gave us an insight into how he writes his books and encouraged all the pupils to keep trying and never give up. After a short break we saw Sally Nichols who was talking about her latest book "Things a Bright Girl Can Do" which describes the suffering undergone by young women who were part of the suffragette movement, including the force-feeding techniques used when women were imprisoned and opted to go on hunger strike. This was a fascinating, if disturbing, talk and we all learnt a lot about how much these suffragettes sacrificed to give women the vote. This was a most enjoyable and interesting day out.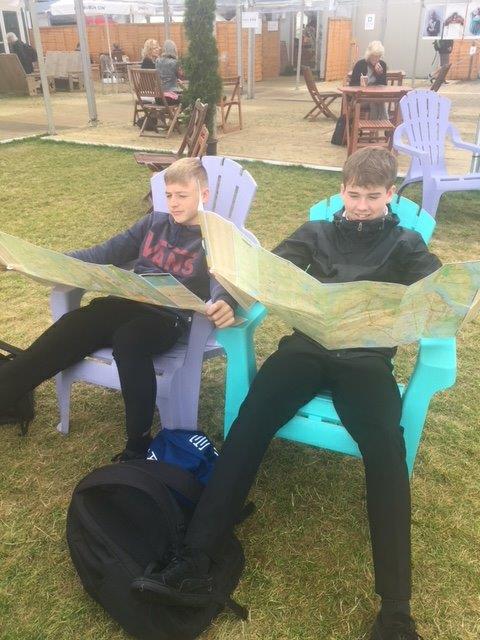 On Tuesday 19th August Ms Lynch's National 5 English class enjoyed a great day at the Edinburgh book festival. The first event was a discussion with Melvin Burgess, well known for producing controversial, prize-winning teen fiction, and he talked to our pupils about his much-anticipated new thriller, 'The Lost Witch'. Then, after lunch, ice-cream and a bit of people-watching from the deck chairs in Charlotte Square Gardens, the pupils enjoyed a really interesting session delivered by Jason Reynolds, a best-selling American author whose experiences of violence in the streets of New York inspired him to write 'A Long Way Down', a compelling book about setting out to seek revenge for a fellow gang member's death. Jason said: 'here's what I know: I know there are a lot — A LOT — of young people who hate reading. I know that many of these book haters are boys. I know that many of these book-hating boys, don't actually hate books, they hate boredom.' His reflections on reading, and the fact that the genre of young adult fiction is only a relatively recent development in fiction, really captured the interest of this teen audience. He explained that when he was growing up he felt there were no books that related directly to his own experiences. Our pupils seemed to relate to this well, and, inspired by his ideas, many came home with new purchases from the bookshop.
S1 School Daze - Road Safety Theatre Production with support from the Fife Community Safety Partnership.
At the end of August, our new S1 attended a Fife Community Safety Partnership funded theatre production in the assembly hall on Road Safety. While the quality of acting and use of humour made it very enjoyable, 'School Daze for S1' has a strong focus on pupil safety, highlighting the different perspectives and factors affecting pupil safety while making journeys to and from school. As Autumn/Winter approaches, please speak to your son/daughter about staying safe while travelling to and from school. For further information and resources, please visit https://roadsafety.scot/
Rights Respecting School Award - Bronze: Rights Committed!
We are delighted to have just been awarded Bronze: Rights Committed, the first stage of the Unicef UK's Rights Respecting Schools Award (RRSA) led by Ms McFarlane. The Award recognises a school's achievement in putting the United Nations Convention on the Rights of the Child into practice within the school and beyond. More information can be found at https://www.unicef.org.uk/rights-respecting-schools/the-rrsa/about-the-rrsa/ Watch this space for further progress!
Balwearie Parent Voice – come along!
Moving Forward: We are pleased that our recent AGM brought along a few new members, and, with the appointment of a new chairperson, treasurer and communicator, we are confident this is now a group that can move forward as a representative body for all parents/carers of Balwearie pupils. Keep checking the website for information about the topics to be discussed at future meetings and to have your say about what you would like know more about. Next Meeting: Wednesday 28th November – more details on our website at http://www.balweariehigh.co.uk/Parents/Parent-Voice/
Key Topics Presented by Senior Leadership team: 2018 Exam Results; Budget Update. All welcome!
DAS News
iPads
Staff and pupils have been enjoying experimenting with our new iPads – recording evidence of learning and researching information. We are becoming skilled at using photographs to support breakdown of tasks and next steps – allowing staff to focus on particular skills and outcomes. Pupils are enjoying all the benefits of their use in the classroom and out and about.
Moving on to adult life
Well done to twelve of our senior pupils who now attend Fife College one day per week at Stenton Campus on the New Directions Future Pathways programme, seven attend on a Monday and five on a Wednesday. Nine of the group are travelling independently by public transport to Glenrothes - a fantastic life skill. Well done for supporting each other with this!
Thank you too to staff and families/carers for supporting the many trial runs up and down to Glenrothes to build confidence with this journey. It has been very encouraging to see the impact of this confidence when a couple of pupils had to problem solve successfully and were not daunted on the first day of the programme! Confident Individuals and Responsible Citizens!
Edinburgh Book Festival
Balwearie DAS pupils and staff love to be part of the Edinburgh Festival scene and this year was no different as two classes attended different events at the Book Festival. We were lucky enough to bring back some super new books for the Dept., some of which were signed by the author. Pupils loved mingling with the authors and book characters – a fantastic literacy day combined with health and wellbeing and social skills!
Variety Club of Scotland Grand Day Out
DAS1 class had a wonderful day out at Blair Drummond Safari Park thanks to the Variety Club. The sunshine was a bonus! In addition to the main attraction of being among the animals, pupils also enjoyed: Face Painters in the marquee; Disco Party and open air concert; Goody bag; Bird of Prey Flying Demonstration; Sea Lion Shows and Clowns and magicians walk about. We welcomed back some very tired but happy pupils who had a ball!
Work experience opportunity
Our partnership with The Furnishing Service continues as we support three of our senior DAS pupils to experience heading out to work for the day and all the responsibility, challenge and rewards of the working day. Skills for Learning, Life and Work are being celebrated as the lads enjoy their day learning outside school. Reports so far are very favourable and we look forward to another school session of positive and productive partnership with the company. Great to see the boys coming into school all ready for work, complete with their lunch box!
Our Bright Futures: Rural skills – Falkland Estate
Following on from our success last session, we were delighted to be offered another opportunity for four DAS pupils to participate in the Rural Skills academy at Falkland Estate. The pupils spend one day per week for a period of six weeks out and about on the Estate learning new skills and using tools and equipment. Previous DAS pupils attending this blazed a trail and were so enthusiastic and committed that we were offered an extended partnership with Our Bright Futures. The four pupils currently attending are equally enthusiastic as we would expect of Balwearie DAS youngsters. Well done!
Friday Elective Programme
Friday afternoon continues to be the timetabled slot for the Skills for Learning, Life and Work elective programme in DAS and this term pupils have chosen from the following options:
Choir singing; Bear Grylls Survival Skills; Swimming at Kirkcaldy Leisure Centre; Walking Football led by GOGA; Spanish – language and culture; Lawn Bowls; Art and Craft; Duke of Edinburgh Taster Year
Very busy pupils and staff every Friday and many skills mastered!
Scottish Disability Sport Senior Athletics Championship
Thirteen senior DAS pupils headed across to Grangemouth Sports Stadium last Wednesday to represent the school at the SDS Senior Athletics Championships. They returned back to school adorned with glory and medals and justifiably very proud of themselves and their achievements. Staff who accompanied them declared them a credit to themselves and the school – Well done Team Balwearie!
Balwearie DAS Breakfast Club
Thanks to PEF money DAS pupils are welcome to enjoy a free breakfast in our new Breakfast Club on Tuesday, Wednesday and Friday mornings at the start of the day. Great to see approx. 25 pupils enjoying this opportunity both to enjoy the food and to chat together. Pupils are also happy to help with the clearing up and the dishwashing thus building their own skills for life, learning and work.
Pupil Leadership Team
Senior pupils at Balwearie DAS are awaiting confirmation of the successful candidates for the Prefect team in DAS in partnership with our mainstream pupil leadership team. Prefects are an asset to the Department and enjoy roles such as buddying; welcoming visitors; leading tours of the Department; helping with directions at parent evenings and organising hospitality at various times of the year. The most important role they undertake is of course being excellent role models for our younger pupils who aspire to take on such roles in the future.
Health and Wellbeing Day
Friday 21st September is the annual and eagerly awaited Health and Wellbeing Day for DAS pupils and staff. On this day pupils and staff will be roving far and wide enjoying team building; problem solving; collaboration and of course health and wellbeing as they enjoy the following choice of activities: Swimming at Perth Pool; Hillwalking at Falkland Hill; Photo orienteering at Botanic Gardens; Beachcombing; Walking Football; Healthy cooking; Making Healthy Smoothies; Cycling; Boxing; Outdoor Gym; Pamper Session. Looking forward to what promises to be an action-packed day all round.
SPORTING NEWS
S5 Health and Wellbeing
As part of the Health and Wellbeing Curriculum for our S5 students, the PE Department have forged links with some local external providers.
Fitness
The Kirkcaldy Leisure Centre hosts a large number of pupils in their state of the art Fitness Suite, where students are encouraged to challenge themselves to improve their personal levels of fitness while enhancing their general wellbeing.
A fitness class is also held at the Leisure Centre for S5 and is led by a qualified instructor, who takes the group through their paces in a variety of styles of exercise, from Body Pump and Spinning to Conditioning and Yoga.
A selection of students also opted to attend the Mind and Body Studio, where classes are led by qualified instructors in a range of approaches to exercise, health and wellbeing.
Walking
Another senior group have been fortunate with the weather so far in their 'mini-expeditions' around the Kirkcaldy area. The 'Walking' group not only experience the general feel good factor by being out and about but benefit from the brisk walking as a form of maintaining a healthy body and mind.
The group are also appreciating the local environment and landscapes and have been researching some of the historical sites along the way. The plan is to capture some of their experiences via photography on their outings. Watch this space!
Golf
The Wednesday Health and Wellbeing Golf elective is now in full swing and the School has begun their working partnership with Kirkcaldy Golf Club. Over the coming months, this will involve the students looking at all aspects involved within golf, such as swing mechanics, club making / design and green-keeping. By the end of the Elective it is hoped they will use this knowledge and continue to be involved within game of golf in some capacity in the future.
Tennis
Our link with the Kirkcaldy Tennis Club has enabled our S5 pupils to develop their performance levels in Tennis and so far have been fortunate with the weather!
Coach Gary Whitton has been working with a range of ability levels and experience in the group and together have been enjoying some real competitive games.
Always on the look-out for expanding the school tennis team for entry to Scottish level competitions and leagues, we have been assured by Gary that some promising players are emerging at the S5 HWB Wednesday sessions. Let's hope the weather is kinder to them for a while longer in order to further build on their progress and development.
Rugby
The new season is underway in the life of Balwearie rugby!
Newly appointed Rugby Development Officer, Colin George (aka Corgi), is presently rounding up players, new and old, to participate in inter-school league games and friendlies, with a view to entering regionally organised tournaments.
Practices are on Mondays after school on the school AstroTurf for boys, all age groups. Wednesday practices are at the rugby club from 530-630 for girls.
We hope to build on the links already established with the Kirkcaldy Rugby Club.
The first game was against Glenrothes High for a mixed S2/3 team, with Balwearie finishing as winners (37:22). The game was played in very good spirit with displays of good sportsmanship all round. Team
Low numbers - Connor McLellan, Corey Connor, Bailey Howarth, Kieran Carr, Caleb Rodigan, Finlay Knight and Presley Lyons
High numbers - Jonathon Simpson, Murray Oliver, Hamish Chisholm, Rory Mill, Daniel Carr, Jake Sandilands, Callum Finnie, Archie Chisholm
Parents who want to come along to matches are more than welcome.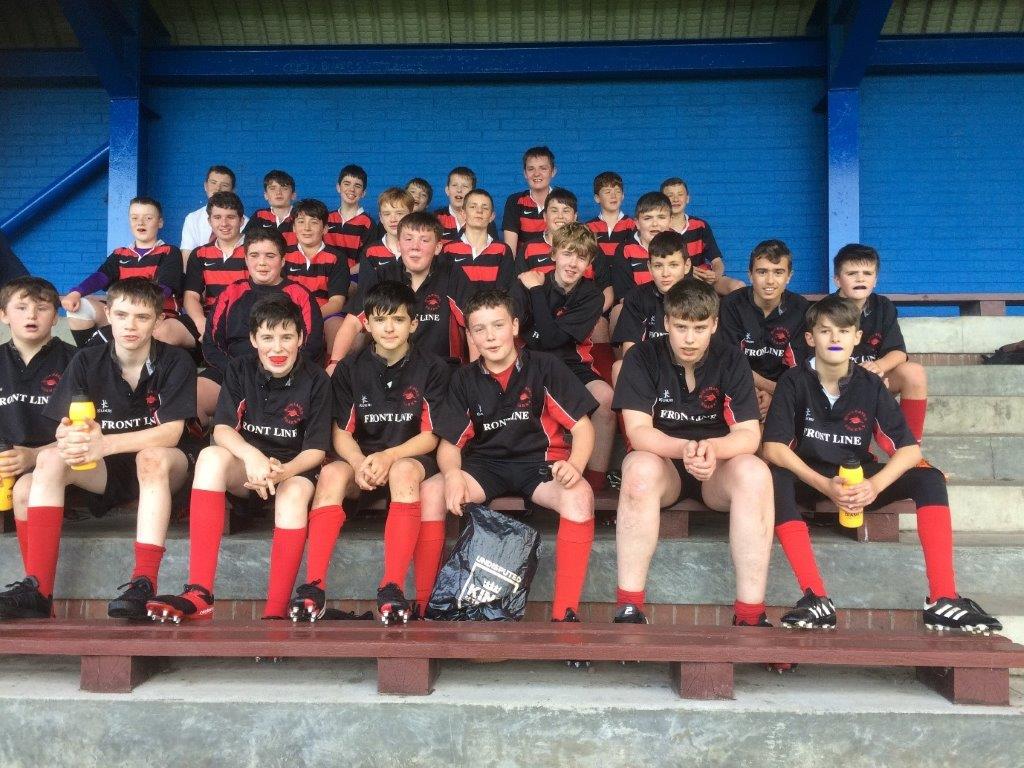 Diary Dates
1st Oct 2018 – S4 Parents' Evening (1)
3rd Oct 2018 – DAS Parents' Evening
5th Oct 2018 – Non-uniform day for Poppy Scotland
8-19th Oct 2018 – October Holiday
1st Nov 2018 – S1 Parents' Evening
14th Nov 2018 - S5/6 - Parents' Evening (1)
28th Nov 2018 – Parent Voice Meeting 2
Related Pages